Photo Gallery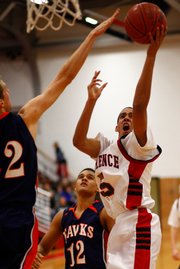 Lawrence High boys vs. Olathe East
Lawrence stuck with Olathe East for most of three quarters, but the Hawks' perimeter prowess was too much to overcome.
O-East's Bryce Schippers led all scorers with 22 points and converted six threes.
"It was a 25-point game, but it didn't feel like a 25-point game," LHS coach Mike Lewis said. "It was a lot tighter than that."
Indeed, LHS (4-11, 2-5) trailed, 36-34, with 4:09 left in the third quarter after sophomore Anthony Buffalomeat (18 points, 4-of-4 from three) drilled back-to-back three-pointers from the left corner.
"I knew it was close after I hit those two threes," Buffalomeat said. "(But) every one of them (Hawks) can shoot. You have to guard everyone."
LHS senior Marcus Ray scored 15 points, while K.J. Pritchard had 12.
Copyright 2017 The Lawrence Journal-World. All rights reserved. This material may not be published, broadcast, rewritten or redistributed. We strive to uphold our values for every story published.