Photo Gallery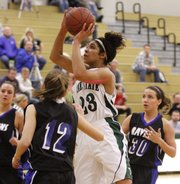 Free State girls vs. Olathe Northwest
The Free State girls basketball team wasted little time in disposing of visiting Olathe Northwest in the opening game of Friday's boys/girls double-header.
The Firebirds opened the second quarter on a 13-0 run and allowed just seven first-half points in taking a 21-point halftime lead that they would never relinquish.
Sophomore guard Lynn Robinson scored 10 of her game-high 14 points in the second quarter, and senior forward Chantay Caron added 10 points and seven rebounds as Free State improved to 11-5 (5-2 in the Sunflower League) this season.
"We hit our shots in the first half, and we usually don't do that until the second half," said Robinson, who also grabbed six rebounds. "I feel like at the beginning of the first quarter, we weren't playing real well. But when we started making shots, I think everybody got more into the game."
Copyright 2018 The Lawrence Journal-World. All rights reserved. This material may not be published, broadcast, rewritten or redistributed. We strive to uphold our values for every story published.