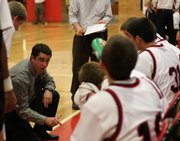 When Marcus Ray touched the basketball on Lawrence High's final possession on Tuesday, the game clock started to trickle down from nine seconds.
Luckily for the Lions and a raucous Jungle crowd, the senior guard needed only seven.
Ray quickly and precisely drove the length of the floor, dribbled past a final Shawnee Mission East defender and hung in mid-air to release a left-handed layup from the right side of the hoop. It banked off the glass and rattled home with two seconds left to give Lawrence a wild 51-50 victory over SM East.
"I was just like, OK, I have to get the ball up the court and see what's open," Ray said. "And then I drove and when I was in the air, I didn't know what to do. I just shot it at the basket and it happened to fall in."
The LHS home crowd was so filled with excitement that the students rushed the floor. Only problem was, two seconds still remained. After officials cleared the students from the floor, the Lions broke up SM East's desperation, full-court pass to secure the victory.
So where did the game-winning layup rank in Ray's memories of playing basketball?
"That was definitely No. 1," Ray said, smiling.
The Lions trailed the Lancers for the majority of Tuesday's battle, including by three after one quarter, seven at intermission, five after three quarters and nine with 5:35 remaining in the game.
That's when Ray took over.
The 6-foot guard poured in 10 points in the final 3:47, mostly off slashing drives to the basket where a sense of urgency was glaringly noticeable. With 1:35 remaining, for instance, Ray got creative on a drive when he elevated for a shot and a Lancers' defender lightly tipped the ball away. With continued momentum to the basket, Ray caught the ball in mid-air and banked in a bucket off the glass. SM East (3-10) simply could not stop Ray, who finished with a game-high 20 points.
"Ever since the fourth quarter started, we just kept giving the ball back to Marcus," LHS sophomore guard K.J. Pritchard said. "We knew that no one on their team could guard Marcus at that point. He was pretty much unstoppable."
The victory was sweet on the surface for an LHS team that improved to 4-10. But the Lions wanted this one for another reason. Last year at sub-state, the Lancers knocked the Lions out of the playoffs with a last-second bank shot from three-point land.
"The first thing I came in and said was revenge factor," LHS coach Mike Lewis said. "Everybody had that little look in their eye and knew exactly what I was talking about. We've been needing one of these for a long time. To finish on top was awesome."
It's easy to see why Lewis was so relieved. Of Lawrence's 10 losses this season, seven have been by 10 points or fewer. One loss came in double overtime. On Tuesday night, Ray wasn't going to let the Lions lose again.
"The guys that played last year wanted to win this game really badly," Ray said. "This was a game we were looking forward to. I told myself if there was any team that we were going to beat, this is the one I really wanted to beat because of last year and what happened to us."
Pritchard added 15 points, while fellow sophomore Anthony Buffalomeat pitched in eight.
Lawrence will play host to Olathe East at 7 p.m. on Friday.
Copyright 2018 The Lawrence Journal-World. All rights reserved. This material may not be published, broadcast, rewritten or redistributed. We strive to uphold our values for every story published.