Topeka — Clean air advocates rallied Wednesday, urging passage of a statewide ban on smoking in indoor public places, such as restaurants and bars, and defeat of a proposed bill that contains numerous exemptions.
Stacy Parkinson, Gov. Mark Parkinson's wife, described House Bill 2642 as "a slap in the face of public health."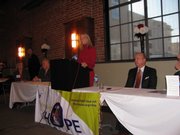 The bill, which is being considered by the House Health and Human Services Committee, was roundly criticized during Kansas Smoke-Free Lobby Day, an event put on by the American Cancer Society.
The clean air advocates favor a bill that has already been approved by the Senate, which is a more comprehensive smoke-free measure. The bill under consideration by the House committee would allow smoking in restaurants and bars that have separate ventilation systems for smoking areas, and that pay $1 per square foot of smoking area for an exemption.
State Health Officer Jason Eberhart-Phillips put together a "Top 10" list of reasons why HB 2642 is "the bad bill." One of the reasons is that the bill would nullify anti-smoking ordinances in numerous cities, including Lawrence and Topeka.
A strong statewide ban on indoor smoking in public places is needed to reduce the health problems caused by second-hand smoke, advocates said.
After statements by public officials, about 50 supporters of a statewide ban marched to the Capitol where they had earlier placed 380 pairs of shoes on the east steps. The shoes represented the number of Kansans who die each year from second-hand smoke.
Copyright 2018 The Lawrence Journal-World. All rights reserved. This material may not be published, broadcast, rewritten or redistributed. We strive to uphold our values for every story published.