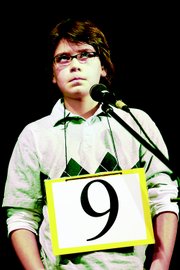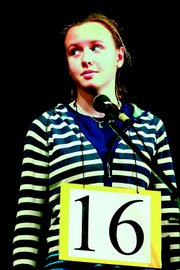 With the word "squalor," Isaac Ward had a clean win for his third and final title as Douglas County Spelling Bee champion.
"It feels awesome," said the Bishop Seabury Academy eighth-grader.
In 2008, Ward won with the word "hysterical." A year later, he won again by spelling "agile" correctly.
On Saturday morning, Ward and 24 other Douglas County fourth- through eighth-graders showed off their spelling skills on stage at Southwest Junior High School, 2511 Inverness Drive.
As an eighth-grader, this is the last year Ward is able to compete in the spelling bee, sponsored by the Lawrence Journal-World.
On March 13, Ward and second-place winner Stefan Petrovic, a sixth-grader at Broken Arrow School, will advance to the regional spelling bee in Topeka.
Petrovic and Ward went several rounds before Petrovic lost by misspelling "orthogonal," a tricky word that means intersecting at right angles.
Despite a flurry of butterflies, Petrovic said he attempted to stay calm by taking deep breaths and trying to laugh.
And though advancing to the regional competition means having to spend an hour or more every day learning to spell big words, Petrovic is excited to be making the trip.
"It's going to take a lot of work," he said.
Copyright 2018 The Lawrence Journal-World. All rights reserved. This material may not be published, broadcast, rewritten or redistributed. We strive to uphold our values for every story published.