-->
Thanks to the efforts of a parent, Lawrence has taken a step toward allowing ninth-grade athletes to compete on high school teams.
Free State High's girls basketball coach, Bryan Duncan, confirmed Wednesday that plans are in place for his program to absorb any ninth-grade girl headed for Free State who played junior high basketball this winter. Duncan said the girls would be welcomed to the Firebirds program beginning Feb. 13 and placed on varsity, junior varsity or C-Team for the remainder of the season.
For the past decade or so, many believed district policy prohibited ninth-graders from playing high school basketball. But no such rule exists. In fact, the district has a policy that specifically outlines the criteria for freshman eligibility.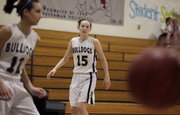 High School Spodcasters
Are freshmen fit for high school competition?
Join the Journal-World's Matt Tait as he welcomes former Free State High boys basketball coach, Jack Schreiner, and former Lawrence High boys basketball coach, Chris Davis, to the podcast studio for a round-table discussion regarding the current state of ninth-grade athletic eligibility at Lawrence's high schools.
Athletic Participation for 9th Grade Students
"9th grade students may participate at the senior high school level in any sport that is not offered at the junior high school. If that sport is offered at the junior high, a student may move up and compete at the senior high only after the completion of the junior high season."
In order to take advantage of it, a form, which is listed on the district's Web site but cannot be accessed, must be signed by five people: the athlete's junior high coach and principal, the high school coach and principal, and a parent.
As of Thursday, Southwest Junior High ninth-grader Kennedy Kirkpatrick was the only freshman in the district who had filed the form, complete with signatures of Duncan, Free State athletic director and assistant principal Mike Hill, Southwest principal Trish Bransky, Southwest coach Kristin Mallory and her father, Jeff Kirkpatrick.
Jeff Kirkpatrick spent several months researching this issue and Duncan credits the father's determination for the latest development in this ongoing saga.
"This was fully parent-driven," Duncan said. "There was no help from coaches or administrators on this."
Kirkpatrick is a staunch supporter of moving ninth-graders up to the high schools, in part because his daughter is widely regarded as one of the top ninth-grade players in the city.
"She didn't know a thing about all of this until this week," he said. "The only reason I kept going with this was because there wasn't ever a clear answer — from anybody."
Rick Gammill, the district's director of special operations, referred inquiries to high school administrators.
To many, the timing appears odd because in August the district denied a proposal supported by both high schools to allow ninth-graders to join the schools' basketball programs from the start of the season. Just weeks before that denial, ninth-grade wrestlers were give the OK to compete on high school teams — from the start of the season.
Hill said comparing the two scenarios — bringing up ninth graders at the start versus adding them at the end — was comparing apples and oranges. Adding new athletes to a team toward the end of the year can be disruptive.
"This is not the first time we've heard of this," Hill said. "Is it a common practice and does it come up every year? No. But people are allowed to pursue this if they choose to do so.
"You've got policy and practice. But our policy is very clear. It's been very ad hoc in basketball over the years, but it is part of our policy, even if it isn't standard practice."
Not everyone has embraced the latest news regarding freshman eligibility. Parents of athletes who missed out on this opportunity in recent years still harbor resentment, particularly toward school administrators for not bringing more attention to the district's policy.
"The thing that bothers me is that there's a supposed form on Page 47 of the district handbook and it's as simple as filling out that form and getting to move up," said Mark Parker, whose daughter, Haley, is a senior and three-year starter at LHS.
"If that's true and it's just a simple form you have to fill out and the athletic directors didn't want to hassle with it, then that's a travesty. And if they didn't know about it, then they should have. If they knew about it, (they) should be ashamed. They should be looking out for the best interest of the kids and, in this case, they haven't done that."
Lawrence High's varsity basketball coaches, Mike Lewis and Nick Wood, both said Wednesday that they had no plans to incorporate freshmen into their programs this season. Free State boys coach Chuck Law said he would not pursue the option either.
"We'll keep going along with the rule that says freshmen aren't allowed to move up and we'll stick with that until the district decides to move them all up as a whole," Lewis said.
Added Wood: "Our rosters are full and we will not be having any ninth-graders move up this year. But we would definitely be willing to look at it next year, when the whole process has been evaluated more efficiently. I guess I'm just surprised about the timing of all this. If this is a policy that has been in place a long time, then why have athletes at both schools been denied this opportunity in the past? That's the million-dollar question, 'Why now?'"
Copyright 2017 The Lawrence Journal-World. All rights reserved. This material may not be published, broadcast, rewritten or redistributed. We strive to uphold our values for every story published.