Photo Gallery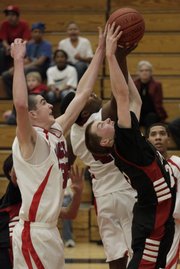 Lawrence High vs. Olathe North
Lawrence High vs. Olathe North
Olathe — The lessons continue to come fast and furious for the young and improving Lawrence High boys basketball team, which fell to Olathe North, 92-86, in a thrilling, double-overtime game Tuesday at O-North.
For the most part, this year's Lions have learned something new every time they have taken the floor. Tuesday, they logged about three games worth of knowledge in their latest setback.
"Going through two overtimes in a game that's so physical takes a lot of energy, and everyone has to be on the same page, and the team really has to play together to get the win," LHS sophomore Logan Henrichs said. "Unfortunately, we didn't get it done tonight, but it was a great experience for our team."
The Lions and Eagles were rarely separated by more than a basket throughout the entire 40-minute affair.
LHS trailed 16-14 after one quarter, 30-28 at halftime and 45-43 heading into the fourth. That's when both teams turned things up a notch, combining for 52 points in a final quarter that left them deadlocked at 70.
The game may have ended eight minutes and 38 points earlier had it not been for the heroics of two other LHS sophs. With the Lions (3-9) trailing by three with 3.7 seconds to play in regulation, K.J. Pritchard raced the ball up the floor and found Anthony Buffalomeat in the corner with less than a second to play.
"We made eye-contact, and I made sure to sprint to the corner to get open," Buffalomeat said. "I was just hoping he could it to me. He did, and I just shot it. At first I thought it was short, but then it went in. I didn't even really believe that it went in until a few of my teammates came running over to me jumping around."
Buffalomeat's shot tied it at 70 and about five minutes — of real time — later he scored the first bucket of OT to give LHS a lead.
"After he hit that shot and then scored on the first possession of overtime, I thought the game was ours," LHS senior Marcus Ray, who finished with 27 points, said.
O-North outscored LHS, 12-6, in the second OT, most of it coming on the broad shoulders of Kansas State football commitment Tre Walker, who scored a game-high 31 points and was, for the most part, unstoppable in the paint.
"They were just more physical than us," LHS coach Mike Lewis said. "But I was proud of the way we stepped up and battled. For us to be able to mentally battle with them in a game like that is a great sign and something our entire team can learn a great deal from."
Photo Gallery
Lawrence High girls vs. Olathe North
LHS girls 46, Olathe North 31
When a team wins the turnover battle by a 16-5 advantage, it pretty much can play however it wants in the other aspects of the game.
The LHS girls proved that to be true on Tuesday with their runaway victory against O-North that came despite the Lions shooting just 36 percent from the floor and 48 percent from the free-throw line for the night.
"It makes a big difference," LHS coach Nick Wood said.
LHS (5-7) forced eight turnovers and surrendered just 14 points in the first half. That sparked the Lions to a third-quarter explosion that saw them build a 45-19 fourth-quarter lead before giving way to the reserves for the final few minutes.
"That felt a lot like it did the year we won state (2008), when we just showed up, played hard and won," LHS senior Jasmyn Turner said.
Turner had a lot to do with that. For the fourth straight game she was a menace on defense, occupying the top spot of the Lions' 3-2 zone and making life miserable for the Eagles. Turner had four of the Lions' 11 steals. Senior Haley Parker chipped in with three steals and paced the Lions' offensive attack with 17 points on 8-of-14 shooting.
Copyright 2018 The Lawrence Journal-World. All rights reserved. This material may not be published, broadcast, rewritten or redistributed. We strive to uphold our values for every story published.