With only a garden shovel, a man attempted to dig through a giant pile of concrete rubble as the Caribbean sun lowered behind him.
For Lawrence Memorial Hospital nurse Karin Feltman, the magnitude of that man's task was echoed in the kaleidoscope of images she saw throughout Haiti.
"It is going to be years and years and years — even with the level of help that is going on right now — for them to rebuild," Feltman said of the country's road toward recovery after last month's devastating earthquake.
On Tuesday evening, just hours after her plane landed in Kansas City and with her bags still in the living room, Feltman sat at home and talked about her weeklong medical mission trip to Haiti.
Her first full day in the country included the sound of nearby gunfire as security troops fired into the air to control crowds that were rioting during food drop-offs.
The trip ended with a 16-hour wait on a hot tarmac for a flight out of Haiti. That flight came in the form of a C-17 Air Force jet. Using cargo straps for seat belts, Feltman and more than 400 other passengers sat on the cold metal bottom of the plane for the two-hour flight to Orlando, Fla.
Working with One Heart Ministries International, Feltman was among a group of Kansas City-area nurses who worked in medical clinics in the tent cities of Carrefour, one of Port-au-Prince's poorest neighborhoods. The clinics treated around 2,000 people.
Photo Gallery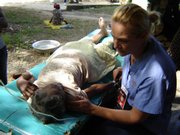 LMH nurse helps in Haiti
Much of what Feltman saw was heartbreaking. Parts of the city still smelled of death and people had built living quarters in the 2- to 3-feet-wide medians along congested roadways. She met a patient who was trapped in rubble for three days. His children had suffocated beneath him.
Feltman also witnessed moments of hope and compassion. Two babies were delivered. One was born in the doorway of a building because the mother was still afraid to go inside a structure.
A 14-year-old girl who had lost several fingers was able to save her thumb. The girl's injuries hadn't been treated since the day of the earthquake, but she was afraid her hand would be amputated if she went to a hospital.
"She left with tears streaming down her face, (saying) 'merci, merci, merci,'" Feltman said.
Feltman helped fill bags of rice, beans, sugar and oil. In all, it was enough to feed 3,200 people.
But it was more than food and medicine Feltman was sharing.
"We can give them hope and we can give them a sense that other people know what they are going through and care about them," she said.
A 13-year veteran of LMH's emergency room, Feltman has served on medical mission trips in Mississippi, Kenya, Honduras and Malawi.
Going on 34 hours of no sleep Tuesday evening, Feltman had plans of eating a good dinner at La Familia restaurant, catching a much-needed night of rest and then reporting to work at LMH as a patient advocate in the morning. But she fully intends to return to Haiti some day soon.
"It is exhausting and you are happy to be home," she said. "But every time I am on the plane (home), I find myself planning where am I going to go next and what am I going to do. Because it really does energize me."
Copyright 2018 The Lawrence Journal-World. All rights reserved. This material may not be published, broadcast, rewritten or redistributed. We strive to uphold our values for every story published.