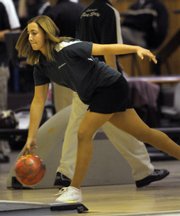 The Free State High bowling team received the ultimate compliment after sweeping Kansas City Turner in a dual on Tuesday at Royal Crest Lanes.
A member of Turner's squad approached Free State coach Anita Carlson with a message she wanted to pass along.
"A player from the other team said, 'You guys are really good,'" Carlson said. "It was nice to hear that. The girl then said, 'The hard work has paid off, and you can tell.'"
The Free State boys handled Turner, 2,661 pins to 2,289, while the Firebirds' girls cruised to a 2,167-1,873 victory. So yeah, maybe they are pretty good.
"If we bowl like that, we're going to be solid all year, and we're definitely going to have a chance at qualifying for state," Free State senior Connor Kring said. "We have six solid bowlers this year, and four of us can step up and destroy the pins, pretty much."
Kring bowled a career-high 699 series. Combine that with Robert Wagner's 708, and Turner didn't have much of a chance.
Kring, who started on the junior varsity squad this season, had a sub-standard tryout for Carlson and was the Firebirds' No. 8 bowler earlier in the year.
"He told me right after that, he said, 'I'm going to be on varsity, and I'm going to earn my spot on varsity,'" Carlson said of Kring. "I could see the hard work he put in. It definitely shows."
On Tuesday, Kring finished with four consecutive strikes. The 699 was nice, but Kring badly wanted one more pin for a 700 series. After his final strike, he put his hands on his head, smiled and looked toward the ceiling, as if he was asking for one more pin.
"Before I started the ninth frame, I did the math in my head, and I realized that if I struck out, I would get a 699," Kring said. "As much as that hurt, I really wanted to get the 699, strike out and prove that I could finish strong."
Kring rolled games of 246, 257 and 196.
"That's determination," Carlson said. "He probably knew turning the corner that he wasn't going to get it (700). But that determination that 'I'm going to finish strong' is what we look for in all of our athletes."
Adam Miltner rolled a 633 series, and Justin Walthall bowled a 621 to round out the Free State boys scoring.
The Firebirds' girls also witnessed a milestone performance with senior Christina Picicci, who bowled a career-high 679 series. Her previous high series was 613.
Picicci, who rolled games of 230, 202 and 247, started Game 1 with six straight strikes.
"I think once I got rolling, I got really comfortable and I had that energy boost to just keep going," Picicci said. "I just felt very comfortable on the lanes, given that they are our home lanes, but I definitely felt more comfortable than I have been lately, so it was nice."
Carlson said a week-and-half ago, she worked with Picicci to tweak her form.
"We've been working on some following through and staying behind the ball, and getting the ball out there," Carlson said. "Now, it's really starting to work. She was solid. It's the best she's bowled."
Liz Love (518 series), Michelle Scheiffer (498) and Gretel Briand (472) rounded out the FSHS girls scoring.
The victory was the Free State girls' first of the season.
"The win is nice, and it makes you feel good about yourself, knowing you've done well and beaten an opponent," Carlson said. "And I'm excited for them because I tell them all the time, 'You can do this. You have it in you. You just need to go out there and do it.'"
Free State will compete in the Sumner Invitational at 3:30 p.m. on Saturday.
Copyright 2018 The Lawrence Journal-World. All rights reserved. This material may not be published, broadcast, rewritten or redistributed. We strive to uphold our values for every story published.