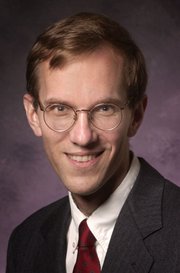 Joseph Shields told a Kansas University audience Monday how he would support Chancellor Bernadette Gray-Little's goals if he were dean of KU's College of Liberal Arts and Sciences.
A native of El Dorado who was educated at KU as an undergraduate, Shields is a finalist for the position that opened after then-Dean Joseph Steinmetz left for Ohio State University. Shields said he had experience working in difficult economic times.
"Planning for cuts requires working through the available options in a systematic way and examining the consequences," said Shields, currently the chairman of Ohio University's department of physics and astronomy.
Addressing questions from audience members concerned about a divide between the sciences and the humanities, Shields said that the humanities, social sciences and creative arts are a critical part of a college education.
"The dean has to be clear in statements about the value of the humanities," he said.
He said he would seek out initiatives that would support Gray-Little's goals of increasing student retention, raising the level of scholarly research and increasing fundraising on campus.
KU has announced two other dean candidates: Susan Carlson, associate provost for faculty advancement and diversity at Iowa State University, and Greg Simpson, KU's interim liberal arts dean. A fourth finalist is expected to be announced by early next week.
Copyright 2018 The Lawrence Journal-World. All rights reserved. This material may not be published, broadcast, rewritten or redistributed. We strive to uphold our values for every story published.