Here's your last dose of news, notes and links from around Kansas University until 2011.
• I'll think I'll leave aside the "Kansas University" vs. "University of Kansas" epic battle for now. But before I leave the topic completely, I'll note the response I got from several folks who had little moments of evidence where KU was referred to as "Kansas State University."
KU was established in 1865, and Kansas State University was founded in 1863, but was first known as the Kansas State Agricultural College. It changed to the Kansas State College of Agriculture and Applied Science in 1939, and to its current name of Kansas State University of Agriculture and Applied Science in 1959.
I got lots of good response from people who have found moments in time where KU was known as "Kansas State University" interchangeably with other names.
Perhaps that's where the abbreviation came from, when the 'S' just dropped out?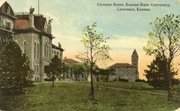 One reader sent along this picture postcard showing the university around 1910, which clearly calls the university "Kansas State University."
Jeff Dingman, city administrator for Baldwin City, wrote in to say he has an old panoramic picture of KU from 1908 in his office.
"It says 'Kansas State University' on the bottom. It clearly depicts Green, Dyche, & Spooner Halls, as well as the old Fraser Hall & Blake Hall," Dingman wrote. "Throws people for a loop."
• Most of the campus is on break through this week. Some employees right now who don't want to schedule vacation time even have to ask for alternative work arrangements through Human Resources, I read in the online faculty newsletter.
But while many students and staff members are resting, a handful are participating in KU's Alternative Breaks program, a program that sends students all across the country in an effort to make a difference.
Students are helping to rebuild New Orleans' Lower Ninth Ward, building trails in Tennessee, providing emotional support and assistance with everyday activities for children and adults with cerebral palsy.
There's a good list of summer programs, too. And applications are due on March 5.
• A quick follow-up on KU Twitter accounts — both the lovely WorldCo Social folks and the KU Alumni Association maintain separate lists of KU tweeters. So they're a good resource for people interested in following large numbers of KU people and entities all at once.
• I'm looking forward to having everyone back on campus. Typically people start trickling in after the new year. Give me tips for Heard on the Hill (or even send along your vacation photos) to ahyland@ljworld.com.
Copyright 2018 The Lawrence Journal-World. All rights reserved. This material may not be published, broadcast, rewritten or redistributed. We strive to uphold our values for every story published.