Photo Gallery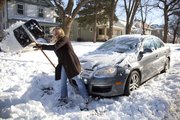 2009 Christmas storm
Kansas weather updates, via Twitter
Lawrence could see up to an inch of snow by the end of the day Friday, making the probability of a white Christmas a good one.
The National Weather Service is calling for a slight chance of freezing drizzle late Thursday afternoon followed by sleet and then snow into the evening hours. Snow is expected to taper off Friday afternoon.
NWS meteorologist Jenifer Bowen said the chance for freezing drizzle on Thursday afternoon is fairly slim.
"Especially in Lawrence, you may see all snow," she said.
On Tuesday, forecasters were calling for as much as two inches of snow in Lawrence. But models showing a weather system moving further south into Texas have caused forecasters to lower their predictions of how much snow Lawrence could see.
Thursday's storm could bring one to three inches of snow to the southern part of Douglas County and southern Kansas City, Bowen said.
Cold weather will mean that whatever snow does fall will stick around for Christmas Day. The high temperature for Saturday is expected to reach into the upper 20s to lower 30s.
Historically, the chance of a white Christmas in northeast Kansas ranges between 11 percent to 25 percent.
It should be no surprise that the record for Christmas snow was in 2009 when Lawrence was in the midst of a blizzard; the NWS reported 4.1 inches in northeast Kansas.
-->
Copyright 2018 The Lawrence Journal-World. All rights reserved. This material may not be published, broadcast, rewritten or redistributed. We strive to uphold our values for every story published.