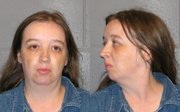 A Douglas County judge Tuesday afternoon ordered a Lawrence woman to serve a 28-month prison sentence for endangering two girls who say they were sexually assaulted by her husband.
"There are several things she could have done to prevent the ongoing sexual abuse of these children," District Judge Peggy Kittel said before handing down the prison sentence to Natasha M. Brown.
Brown, 34, nodded her head when listening to Kittel's instructions during the sentencing hearing. Kittel ruled that Brown could get credit for the six months she has already served in jail and would be eligible through good behavior to get credit for 20 percent of her sentence.
Brown had apologized to the girls' parents earlier in the hearing.
"You entrusted us with your children, and my husband and I violated that trust beyond measure," said Brown, who has been convicted of two counts of aggravated child endangerment and one count of lewd and lascivious behavior.
Amy McGowan, a chief assistant Douglas County district attorney, had asked Kittel to depart from standard sentencing guidelines and give Brown prison time.
Normally, Brown, who has no criminal history, would face probation for the three convictions.
Kittel found that Brown deserved the steeper sentence because of the ages of the victims — they are now 9 and 11 — and because the defendants had a relationship of trust with the girls.
The girls' family from Topeka met the Browns through Heritage Baptist Church, which is northwest of Lawrence. Prosecutors have said that in May the girls talked to their parents, accusing Natasha Brown's husband, Donald Brown, of having sex with them. Police later arrested the Browns.
"My children lost their innocence, and they may never get most of that back," their mother said in a letter read in court. "And two of them will never get their purity back."
A jury in October convicted Brown of two counts of aggravated child endangerment and one count of lewd and lascivious behavior. Her husband, Donald Brown, 33, faces a January trial on multiple charges, including three counts of child rape. He is accused of having sex with and molesting the two girls from June 2008 to May of this year.
Natasha Brown was convicted of lewd and lascivious behavior for lifting her skirt and exposing her genitalia to the children.
The girls' father had asked Kittel to give Natasha Brown the maximum prison sentence she could because the events have had a tragic effect on the family.
"It's not that I hate," he said. "It's just that I don't trust anyone, not at all."
Defense attorney Napoleon Crews had argued that his client, Natasha Brown, was involved in an abusive relationship with her husband and she was intimidated into not reporting anything about the abuse to police.
But Kittel said Brown acknowledged she thought her husband was sexually "grooming" the children and that she was aware of the abuse. Kittel said Brown could have done several things, including notifying the police or the girls' parents, confronting her husband or refusing to let the children stay at the home.
Copyright 2017 The Lawrence Journal-World. All rights reserved. This material may not be published, broadcast, rewritten or redistributed. We strive to uphold our values for every story published.