Although Willie Amison, Craig Butler, Ed Brunt and Bud Stallworth grew up in different places, and with different aspirations, all eventually found their way to Lawrence. They faced challenges in their youth because of the times — and the color of their skin. But despite the obstacles, each made a name for himself, and each felt he had something to pass on to the next generation.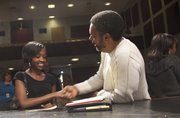 They have found the platform to do just that with an innovative program called Can We Talk, which brings kids together with adults who help them navigate some of the barriers that can exist in a diverse society.
"I grew up when it was practically illegal to be black," says KU basketball legend Bud Stallworth, who spent his childhood in Alabama and first came to Lawrence for a summer music camp.
"We used to travel all over the country," Stallworth says. "I don't know how my parents did it. We couldn't eat in certain restaurants and go certain places. But they managed."
"I grew up in Omaha, Nebraska — in the ghetto," Brunt says. "The first time I was part of a minority was when my mother insisted that I go to an integrated junior high. Some of the kids at the school had never seen a black person before. They thought I had been burned, and they would touch my hair."
Butler was born in Chicago and came to Kansas to play football at Bethel College in Newton in 1970.
"It was a completely and totally different world, and it called for constant adjusting coming from an urban culture with all of its associated problems and going to a rural, Mennonite culture and all of its associated problems," Butler says.
Amison spent his youth in Sandusky, Ohio, and although he attended an integrated school, he remembers feeling disenfranchised in the classroom. "I didn't apply myself academically. I just wasn't engaged," Amison says. "Now as far as on the athletic field? Oh, I was there! I had it!"
And he had enough of "it" to land him a scholarship to play football at KU.
After college, each continued his journey to discover his place in the world. Butler held various positions: academic adviser, Minority Center cultural director, restaurant manager… All the time he was asking, "Where do I fit?"
He went back to graduate school, received a master's degree and became principal of a charter school in Kansas City, Mo.
"It was frustrating seeing the cultural clashes between the all-white staff and a student population that was made up of 99.9 percent black kids," Butler says. "Those kids come with a whole lot of baggage, and to achieve academically a whole lot of other stuff has to be in place."
Amison left the athletic field and re-entered the classroom as a fifth-grade teacher at Pinckney School. He earned his master's degree in administration and later became assistant principal at Lawrence High School.
Working at all levels of education, Amison noted a disturbing trend: "I saw kids go from elementary to junior high and never see them graduate! And usually they were the kids of color… .When I got to Lawrence High, I saw how the kids lost their enthusiasm. They didn't have anyone to go to in the buildings. They had this attitude of, 'Why should I stay?'"
When kids don't stay in school, the unfortunate alternative seems to be a life caught in the criminal justice system, or the piece that Stallworth and Brunt were most familiar.
After a car accident cut his professional basketball career short, Stallworth had to refigure where he fit into society. Using his social welfare degree, Stallworth worked in a group home in the 1970s and saw kids who didn't know where they came from or where they were going. More recently he went to the Juvenile Detention Center in North Lawrence and "was shocked at the age of some of those kids and what they had done. Many of these guys don't have a roof over their heads."
Brunt knows firsthand of the problems kids can face when school is not a priority for them. He worked on the Lawrence police force for 30 years, rising to the rank of captain before retiring in 2008.
"There's a learned helplessness among these kids," Brunt says. "Because the first thing you see is skin color. The second is sex, and the third is how you are dressed. So if you come across as well-spoken, then you can move beyond people's stereotypes about what it means to be young and black and in America."
Sensing the multitude of issues that face minority youths, the four men banded together to try to make a difference. Specifically they sought to close the academic achievement gap for minority students, to give the youngsters mentors and to lower the number of kids in the juvenile justice system.

Three years ago they held their first meeting at LHS to talk to students about their shared history, their goals and the reality of growing up in a white-dominated culture. They also sought to bring in others who could help the kids navigate the terrain.
One recent speaker was KU professor and filmmaker Kevin Willmott, who talked about growing up in Junction City. He told them that he always wanted to be a writer or filmmaker, but he never shared those dreams with his teachers.
"I didn't let them know what was going on in my head. ... And no one ever told me how to go to college," Willmott says. "No one ever told me how to take a test. I went to college because a priest told me I needed to do that."
In addition he encouraged the students to "find the thing (they) want to do and not give up… There's a distance now between where you are and your future. Find a way to shrink that distance."
When Free State principal Ed West discovered the program at LHS, he realized that his students could benefit from it as well, so the men agreed to expand the program to both high schools. It has proven so successful that it is now open to students from every background. This year it is offered at Central Junior High School as well.
If anyone has seen the impact of the program, it is Charles Thomas, Free State's security officer. He sees the program as a way to break down barriers between students and teachers.
"A lot of these kids don't know where they fit," Thomas says. "We have a number of biracial kids who struggle knowing what group to belong to."
One such youth is 16-year-old Ryan Patterson, whom Thomas describes as "hard core" but who has turned around since arriving at Free State. Ryan came to Lawrence from Wichita a couple years ago and lived in The Shelter, a group home for adolescents.
"I was always picking fights when I first got here. I was smoking, failing my classes and getting into trouble. ... But they put a lot of effort into their kids at this school. And now I have a 3.2 GPA!" he says proudly.
The change seen in Ryan is exactly what the organizers of Can We Talk hoped they would see with the program.
"We're not trying to 'teach' these kids who come to the sessions," says Brunt. "We're trying to show them that they have options."
"We have good kids in Lawrence," Amison says. "I know we can make a difference."
Copyright 2017 The Lawrence Journal-World. All rights reserved. This material may not be published, broadcast, rewritten or redistributed. We strive to uphold our values for every story published.