Photo Gallery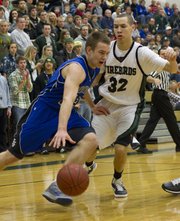 Free State boys vs. Leavenworth
Free State boys basketball
With just over a minute left against Leavenworth, the Free State boys scrambled in the backcourt, pressing the ball-handler, desperate to force a turnover.
When the Firebirds couldn't force a miscue, they were forced to foul.
In such late-game scenarios, there's typically an area to pinpoint where the game got away — and that was exactly the case following Free State's setback.
Among a few areas where the stats didn't favor the Firebirds (3-2), the numbers from the free-throw line may have loomed the largest.
The Pioneers shot 76 percent from the line, while the Firebirds only made half of their 36 attempts.
"If we would have had those, it would have been a good game, at least a lot closer," Free State senior Austin Hoag said.
Hoag and fellow seniors Eric Watson and Alec Heline each scored 10 points, and junior Brett Frantz scored a team-high 13 for the Firebirds.
"They made their opportunities around the basket, they made their free throws — and we didn't," said FSHS coach Chuck Law, who praised his club for its effort and execution.

Though missed opportunities proved costly in the second half, the first half was more about rebounding, or lack of it.
Sam Banach (13 rebounds) and Chris Simanowitz (nine rebounds) gathered several offensive rebounds, which led to extra possessions and scoring opportunities for the Pioneers.
"They're going to make shots. You have to clean up the shots that they don't make," Law said.
"We're going to be undersized against almost everybody we play against," Law added. "But we've got to find a way to match that physicality all the time."
As a result of second-chance baskets, the Pioneers led 34-33 at the break, and the teams were even at 48 to begin the fourth quarter.
The Pioneers began to pull away in the fourth, building a double-digit lead behind clutch baskets from Kyle Wiggins (22 points) and Grant Greenberg (23) as the misses began to mount for the Firebirds.
"I have very little doubt that we're going to finish around the basketball more (and make more free throws) as we get into January and February," Law said. "Because they will accept the challenge.
"What I like about our guys is they're going to come back to practice over the break hungry."
LEAVENWORTH (73)
Kyle Wiggins 6-16 7-8 22, Preston Padgett 0-3 2-2 2, Grant Greenberg 8-14 6-8 23, Chris Simanowitz 2-5 0-0 4, Devyn McPhaull 2-4 0-0 4, Sam Banach 3-7 3-6 9, Khai Hutchinson 2-3 5-6 9, Tony Dougherty 0-0 0-0 0, Dion Dorsey 0-0 0-0 0. Totals: 23-52 23-30 73.
FREE STATE (66)
Shawn Knighton 2-2 0-0 4, Austin Hoag 2-4 6-11 10, Eric Watson 3-13 3-12 10, Alec Heline 3-12 2-3 10, Evan Manning 2-7 4-6 8, Brett Frantz 6-8 0-0 13, Cameron Dabney 1-5 2-2 4, Tyler Self 2-4 1-2 7. Totals: 21-55 18-36 66.
Three-point goals: Leavenworth 4-11 (Wiggins 3, Greenberg); Free State 6-17 (Heline 2, Self 2, Watson, Frantz). Fouled out: Leavenworth — Simanowitz, Banach. Shooting: Leavenworth 23-52 (44 percent); Free State 21-55 (38 percent). Turnovers: Leavenworth 16, Free State 8.
Copyright 2018 The Lawrence Journal-World. All rights reserved. This material may not be published, broadcast, rewritten or redistributed. We strive to uphold our values for every story published.