• A somewhat controversial study has been attracting a little buzz recently. KansasReporter.org picked up a study that detailed — among other things — what it called a dramatic rise in administrative spending in many Big 12 universities, including at KU, where it said "administrative costs" had more than doubled.
But, several have pointed out some potential issues with the study.
One such issue might arise with the study's sponsor, the American Council of Trustees and Alumni.
The Kansas blog Dome on the Range said the organization may have a political agenda, calling it "a right-wing group founded by Dick Cheney's wife and other notable regressives like William Bennett and Irving Kristol."
KU spokeswoman Jill Jess told KansasReporter.org that the study seems flawed— that it apparently doesn't include data from KU Medical Center in earlier years and then adds it later, to make it seem like a larger spike in administrative costs. And, she adds, they never seem to specify what "administrative costs" even mean.
And just looking at it myself, when it measures the tuition increases it doesn't seem to take into account KU's four-year guaranteed tuition compact when measuring an overall increase. (Granted — bottom line, that might not matter to families who have to foot the bill).
So, I look at all of this with a grain of salt, but what it really gets me wondering is this: If I wanted to truly measure administrative cost increases at KU over time, what would be the best way to do it? We've done plenty on actual cost increases and decreases, but I've never thought to try to segregate out "administrative" costs somehow.
I've heard anecdotal griping over the years about increases in the number of vice provosts, associate vice provosts, etc. But I've never seen any real data to know if that's even an issue. Maybe I could look at the number (and costs) of specific positions. Or look at how much the chancellor's office, or the provost's office, have spent over the past few years. That's just off the top of my head. I'm sure some smart Heard on the Hill readers have better ideas. Anyone have a good idea on how to measure that kind of spending, or even think it's worthwhile? And is that study worth much to you, with the concerns listed here?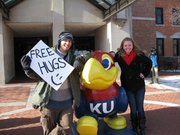 • Heard on the Hill fan Brenda Harrington writes in to note that she not only saw the "Free Hugs" guy mentioned in yesterday's post, but she also grabbed a photo.
Actually, she said, she really just wanted the man to take a photo of her with her daughter. But — because he initially thought they wanted a photo of him — she relented, and snapped a quick photo of the Free Hugs dude and her daughter, Haley Harrington, a KU sophomore from Lawrence.
And, as her mother indicated, Haley — while smiling nicely for the camera — seems to be making quite certain that the man with the cardboard sign stays on his side of the Jayhawk statue.
• I troll the Internet for all kinds of KU news every day. I'm interested in what a variety of voices are saying about this place, and that means skimming a lot of headlines. Occasionally, I'll run into something that will give me a small heart attack, because I'll think I've missed something critical. Like this news story.
I guess you can just call this my plea to Karachi University in Pakistan and Kutztown University in Pennsylvania (among others) to stop putting the abbreviation "KU" in places I can see it.
• Wednesday brought news that KU's law dean search would be reopened, which the Heard on the Hill faithful had wind of earlier this week, thanks to brilliant Heard on the Hill tipsters who knew ahead of time. I love you all.
• See how much fun it is to send in tips for Heard on the Hill? Stick it to the man by e-mailing me at ahyland@ljworld.com.
Copyright 2018 The Lawrence Journal-World. All rights reserved. This material may not be published, broadcast, rewritten or redistributed. We strive to uphold our values for every story published.