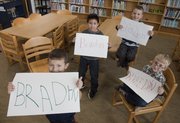 Braedyn Clover isn't afraid to lose his identity.
Even at age 6.
"I wish everybody was Braedyn," the kindergartner proclaimed the other day, perusing books in the library at Langston Hughes School. "I like it."
He's not alone. Not even close.
Braedyn is one of four Langston Hughes students who share the first name, despite each signing his papers with a different spelling: Bradyn Kern, in kindergarten; Brayden Ballew, in first grade; and Braiden Bangalan, in second grade.
Together, the four account for one-fifth of the 20 Bradens, Bradyns, Braedens, Braedyns, Braidens and Braydens enrolled in the Lawrence school district.
Brayden Ballew, for his part, figures more such monikers will be on the way — another "2,000" in the years ahead, he says, to continue a legacy that's still growing.
Perhaps he's onto something. Brayden ranks No. 4 on the Kansas Department of Health and Environment's most recent listing of Most Popular Baby Names for boys, with the 219 newborns receiving the name in 2009 trailing only Aiden (341), Jackson (293) and Caden (249).
Most popular names by grade
The top four for girls: Addison (221), Emma (214), Isabella (213) and Chloe (204).
"This is the first time I've ever had a Braedyn," said Chris Heider, who teaches afternoon kindergarten and remains thankful, for efficiency's sake, that her other one, Bradyn, prefers to go by Brady. "I've also never had a Macade until this year. Or a Larson. Or an Easton — that's a new one for me. …"
This list goes on — Kady, Contessa, Colton … — as Heider reflects on her 28 years in the classroom, a teacher calling an increasingly unfamiliar roll each August.
"We certainly don't see the same names we used to," she said.
Then she smiles as she looks out over her latest class, the youngsters dutifully "hugging" their books as they line up to leave the library. Interested. Quiet. Ready to learn.
At least that much hasn't changed.
Copyright 2018 The Lawrence Journal-World. All rights reserved. This material may not be published, broadcast, rewritten or redistributed. We strive to uphold our values for every story published.