Photo Gallery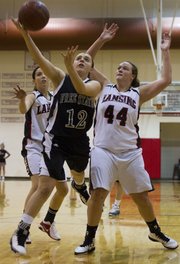 Free State girls vs. Lansing
Lansing — Paced by a hot-shooting first quarter, the Firebirds (2-2) opened the night with a resounding 57-33 victory at Lansing.
FSHS looked the best it has offensively this season, shooting 9-of-14 in the first quarter, including 3-of-5 from three to all but blow the game open.
"It definitely helped our confidence, and it helped that we were playing as a team," said junior Lynn Robinson, who finished with 13 points and five steals.
Free State sophomore guard Kennedy Kirkpatrick led the Firebirds with 19 points and six rebounds, and sophomore Courtney Hoag had a strong game defensively with seven rebounds and four blocks.
Still, with the game in hand, the Firebirds seemed to relent in the fourth quarter, which drew the ire of coach Bryan Duncan.
"We played well, but when you're winning, you've also got to continue to play hard and play smart," Duncan said. "We're still developing that mentality of being great all the time."
Copyright 2018 The Lawrence Journal-World. All rights reserved. This material may not be published, broadcast, rewritten or redistributed. We strive to uphold our values for every story published.