Photo Gallery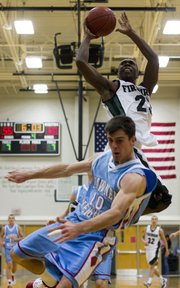 Free State boys basketball vs. Shawnee Heights
For the second straight game, the first half was a forgettable one for Free State High's boys basketball team.
The Firebirds hit only 10 of 31 field goals in the half, committed 10 personal fouls and didn't pressure on defense the way coach Chuck Law expects them to.
And yet, for the second straight game, the Firebirds (2-0) coasted to victory with relative ease, this time 64-37 over Shawnee Heights in their home opener on Friday night at FSHS.
"The first half is probably the worst we've played, even in practice," senior guard Alec Heline said. "We haven't done stuff like that."
Heline and junior Brett Frantz led the way with 15 points apiece, and senior Eric Watson added 10 points and five rebounds, but it was on defense where the Firebirds truly shined.
Behind a smothering full-court press and stifling on-ball defense, FSHS forced 24 turnovers and left Heights coach Pat Buchanan searching for answers on his bench.
The Firebird 'D' was especially sound after the break, when they blew the game open by outscoring Heights 36-15 in the second half.
"That's going to be what we do," Law said of the defensive pressure.
The Firebirds snagged errant passes and took off in transition for easy scores, though, at times they were also sloppy with the ball.
"I think a little bit of first- (home) game jitters," Law said. "We were excited to play, and we had some kids do a few things a little bit out of character because of their enthusiasm and energy to play."
In other words, trying too hard for a big play to excite the crowd.
"I think, too often, we were thinking forward to what the finish on the other end was going to be like," Law said.
Law acknowledged that, while there were a few areas which he wasn't particularly pleased with, his Firebirds are right about where he thought they'd be two games into the season.
"The good thing about that is there's a lot of opportunity for growth," Law said.
Copyright 2018 The Lawrence Journal-World. All rights reserved. This material may not be published, broadcast, rewritten or redistributed. We strive to uphold our values for every story published.