Photo Gallery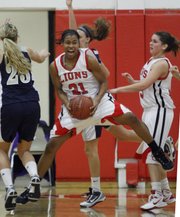 LHS girls basketball vs. Mill Valley
If the Lawrence High girls basketball team's skills ever catch up with its scrap, the Lions could become tough to handle.
Until then, LHS will have to settle for the positive feeling that comes from playing hard and the wins will have to wait.
Thursday night at LHS, the Lions fell to 0-3 after a 40-23 loss to Mill Valley. Missing two starters because of illness, the Lions fell into holes of 10-0 and 19-4 before the light finally came on. By then, it was too late.
"I felt like we weren't very focused at the beginning," senior Brittany Ray said. "We're used to relying on the girls who were out and it took us a while to get into the game."
Seniors Kristen Bell and Rachel Kelly, both starters, could only sit and watch as their teammates tried to step up in their absence. Eventually, they did, but LHS coach Nick Wood said it was clear that his team was a little lost without Bell and Kelly.
"You take those two away from us and it gets a little tougher to put the ball in the basket," Wood said. "That's our starting point guard and our starting shooting guard. Without them, it took a while for the rest of the girls to mesh."
Much of the early going was spent with the Lions standing around waiting for senior Tamiya Green to attack. Luckily for the Lions, Green had no problem with that. Despite her team struggling to score, Green was the most active player on the floor, picking up eight first-half points and seven rebounds to help the Lions hang on to hope.
"I felt like I needed to step up big-time with two of our starters being out," said Green, who finished with 10 points, nine rebounds and three steals.
According to Wood, Green did all she could.
"We ask a lot out of her," he said. "She was face-guarding their best player and then we needed her to rebound and score inside. That's a lot. But Tamiya's a warrior and there's no doubt that she gives us everything she's got every night."
Despite the rough start, LHS closed the gap to nine points twice in the third quarter. Once after a second straight bucket from Emily Peterson (eight points and seven rebounds) and again, seconds later, when Kelsey Broadwell scored on a put-back to make it 28-19. Broadwell nearly swiped a steal near midcourt that would've given the Lions a chance to cut the Mill Valley lead to six or seven. Instead, Mill Valley's Stephanie Lichtenauer hit a three-pointer with five seconds to play in the third and LHS was outscored, 9-4, in the final quarter.
"We were battling but then they made that shot. It hurt," Green said.
Despite the loss, Wood was not entirely discouraged by the performance. Just the start.
"We're a work in progress," he said. "These girls don't have much varsity experience. That's not an excuse, that's just the way it is. That's why they make mistakes like the ones we made early tonight. Down the road, we won't make them."
Lawrence is back in action tonight when it travels to St. Teresa's for a 7 p.m. game.
Copyright 2018 The Lawrence Journal-World. All rights reserved. This material may not be published, broadcast, rewritten or redistributed. We strive to uphold our values for every story published.