Photo Gallery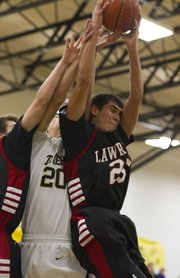 Lawrence High boys basketball vs. Blue Valley
Stilwell — Sometimes, the shots just won't fall. They'll rattle on the rim, they'll appear halfway down, but they just won't go down.
The Lawrence High boys basketball team found that out on Thursday, falling to host Blue Valley, 62-49, in the first game of the Blue Valley Shootout.
Lawrence High coach Mike Lewis said he couldn't count how many times he looked up and saw the ball rattle the rim and pop out to a Blue Valley rebounder.
"Those rim-rattlers take a lot of life out of you, as the shooter and as the team," Lewis said. "You're really reaching for something positive, and it's there, and then it's gone."
The shooting plague ran through the whole team. Junior KJ Pritchard finished 9-for-24 and 2-for-12 from three. Junior Logan Henrichs hit just one of eight field goals, and junior Anthony Buffalomeat was 3-for-8.
Henrichs isn't worried about the off night. He said the offense will come.
"You just gotta shake it off," Henrichs said. "Don't even think about it. Just keep playing right through it."
Lewis said he thought the team got open looks offensively, but some increased effort on the defensive end would only help the Lions (0-2) get easy buckets.
Henrichs said that getting more steals, forcing more turnovers and pulling down more rebounds usually results in easy fast-break buckets.
"We just have to do a better job of putting a body on our guy and clearing away from the basket. That would really help our cause," said Henrichs, who had six rebounds.
Lewis said that improving the rebounding is mostly about coaching. Sure, having taller guys can help, too, but Lewis is trying to get his players to hustle and show energy attacking the glass.
The Lions' rotation is still being tinkered with, and sophomores Shane Willoughby, Brad Strauss and Tyrone Jenkins all saw extended time. Willoughby hit two three-pointers and Strauss played aggressive defensively.
Practices have been spotty — the Lions have looked good, OK and terrible at times.
"So at that point, being a young group and being in a position where it's early in the season, we're going to continue to challenge guys in practice and put guys out there," Lewis said.
The Lions continue the tournament today, playing Ralston (Neb.) at 5:15 p.m. at Blue Valley High. They will play Lee's Summit North (Mo.) or Oak Park (Mo.) to conclude the tournament on Saturday.
"We're definitely a work in progress," Lewis said. "Our goal right now is to win two. Get two out of three and leave with a good taste in our mouth."
Copyright 2018 The Lawrence Journal-World. All rights reserved. This material may not be published, broadcast, rewritten or redistributed. We strive to uphold our values for every story published.