Topeka — Gov.-elect Sam Brownback on Friday nominated state Rep. Lee Tafanelli, R-Ozawkie, and Ernest "Ernie" Garcia, a retired Marine and former sergeant at arms of the U.S. Senate, to lead his public safety team.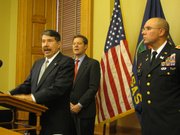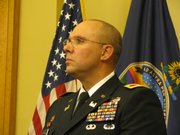 Tafanelli will serve as Kansas Adjutant General, director of Homeland Security and director of Emergency Management. Garcia will serve as superintendent of the Kansas Highway Patrol. Both appointments are subject to Senate confirmation.
They will succeed current Adjutant General Gen. Tod Bunting and Terry Maples, who is retiring from the highway patrol.
Tafanelli, 49, a colonel, has served in the Kansas Army National Guard for more than 30 years, including deployment to Iraq as a battalion commander. He is currently assistant adjutant general and a state legislator. His promotion to brigadier general is pending before the U.S. Senate.
Garcia, 64, a native of Garden City, is a retired lieutenant colonel with 35 years service in the Marines in active and reserve duties. He has served in numerous deployments, including Operation Desert Shield, Desert Storm, Iraqi Freedom and in Haiti. He was sergeant at arms and doorkeeper of the U.S. Senate from 1985 to 1987 and has served in various jobs for Presidents George W. Bush, Ronald Reagan and former U.S. Sen. Bob Dole, R-Kan.
He is currently with the U.S. Selective Service System, and has served with that agency in the past as acting director.
"Both Col. Tafanelli and retired Lt. Col. Garcia know firsthand the sacrifices our Kansas troopers and military make to keep our state and country safe and free because they've been on the front lines themselves," said Brownback.
"These are the two most qualified people I think there are in America to lead these two positions," Brownback added.
Tafanelli said he will immediately set out to make sure state government is ready to respond to winter weather emergencies. Garcia said one of his priorities will be to focus on recruiting new troopers because many of the current troopers are nearing retirement age.
Tafanelli said he will continue his role as a state legislator until the 2011 legislative session starts next month. Then Republican Party officials in the district will have to select a replacement.
Tafanelli has served in the Kansas House since 2001 with an interruption in 2005 for a tour in Iraq.
Copyright 2018 The Lawrence Journal-World. All rights reserved. This material may not be published, broadcast, rewritten or redistributed. We strive to uphold our values for every story published.