Big band and classic Christmas music echoes through the gym at Holcom Park Recreation Center. About 15 seniors are ball-changing and grapevining along to the Glenn Miller Orchestra and "Frosty the Snowman."
Past Event
When: Friday, December 10, 2010, 11:15 a.m. to 1 p.m.
Where: Holcom Park Recreation Center, 2700 W. 27th St., Lawrence
Cost: Free
-->
-->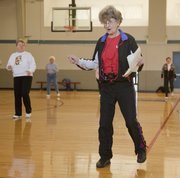 -->
It's not the typical music for an exercise class, but it's what 81-year-old Wilma Elder chooses when she's teaching her dance fitness class through Lawrence Parks and Recreation.
"For most of us, we really like the old music," said Vicki Ross, who has been attending Elder's class for 11 years.
Elder is retiring Friday after almost 29 years teaching for Parks and Rec, and her career will be celebrated with a reception at the Holcom Park center. Through her years with the city, she's worked as a clerk in the office and taught both strength training and fit-for-life classes, which are low-impact aerobics.
Many of the people who attend Elder's classes are in their 70s and older, said Jo Ellis, recreation program supervisor.
"It's real nice to have something for their generation," she said.
Elder has gained a following of people who attend her classes, such as Jan Braman, who's been coming for 10 years.
"Some of the people have been coming here for years," she said. "It gets us up and going."
Ellis said that Elder's classes are full of people who return each week, sometimes multiple times, to dance to old-time music and see their friends.
"She has a huge following," she said. "People love her. It's like a family. She creates a really nice relationship with all of her participants."
Elder didn't start teaching the classes until her six children were grown and she moved back to Lawrence from Phoenix. Then she started getting into teaching, and for a while had her own place to teach as well as picking up classes at Brandon Woods. She also taught two classes per day with Parks and Recreation, but recently scaled it back to just one.
She enjoys helping keep seniors healthy, no matter their age.
"It's so much better for you to be able to move around and be able to do whatever you want to do in life," she said.
Despite Friday being her last teaching day, she plans to keep attending classes to stay active.
"It's not like I'm going to quit doing it," she said, "because I enjoy it."
Copyright 2018 The Lawrence Journal-World. All rights reserved. This material may not be published, broadcast, rewritten or redistributed. We strive to uphold our values for every story published.