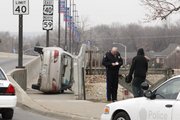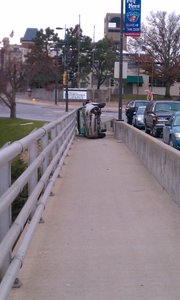 A 21-year-old Oskaloosa man has been ticketed after the car he was driving took the corner at Sixth and Massachusetts streets too fast, and the vehicle ended up on its side on the sidewalk leading to the Kansas River bridge.
Lawrence police Sgt. Matt Sarna said Logan Reiling was driving a 1998 Toyota Corolla east on Sixth Street when he lost control of his vehicle, which hit the concrete barrier on the east side of the bridge and then flipped onto the passenger's side. Reiling was cited for driving too fast for conditions and for not having any proof of insurance.
The passenger in Reiling's car, a 29-year-old Overland Park woman, was taken into custody on an outstanding warrant from Johnson County and for interfering with the duties of a law enforcement officer.
Both Reiling and his passenger suffered minor injuries, but they refused treatment at the scene.
Copyright 2018 The Lawrence Journal-World. All rights reserved. This material may not be published, broadcast, rewritten or redistributed. We strive to uphold our values for every story published.