Topeka — From start to finish Tuesday night, Free State High senior Eric Watson made his presence felt against Seaman High.
Photo Gallery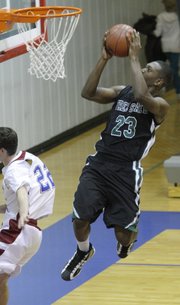 Free State vs. Topeka Seaman
After winning the opening tip, Watson buried a three-pointer from the wing on the first play of the game, and as the clock wound down in the fourth quarter, the 6-foot-1 junior put the exclamation point on a 68-53 Firebird boys basketball victory with a two-handed dunk.
"It's been awhile since I've gotten one of those," a stoic Watson said postgame, seemingly not overly excited about his 28-point, eight-rebound, four-assist evening.

"What more can you say about (Watson) tonight?" FSHS coach Chuck Law said. "He was fantastic.
"It's easy to stand around and watch him, because he's liable to do something potentially spectacular."
Free State had to battle against a big, physical group of Vikings.
Through they coasted to a 19-12 lead after one quarter behind 11 points from Watson, the Firebirds wound up tied at the half behind a rash of turnovers, fouls and errant three-point tries.
Law said his team "fell in love" with the three-pointer early, and after Free State's 1-for-14 first-half showing from behind the arc, he sought to retool the offensive approach at the break.
The results were impressive.
After a frenzied first half, the Firebirds were more measured in the half court, attacking the rim and getting layups, particularly Watson, who drove to the basket with ease, making 11 of 12 two-point attempts on the night.
Free State opened the third quarter on a 9-2 run and then started the fourth on an 8-2 run to blow the game open.
"We adjusted in the second half," Law said. "We used our athleticism, we got out and ran, and we spaced the court well. I thought our second half was pretty good for an opening game."
FSHS also turned in an impressive effort on defense as well, forcing 22 turnovers, many of them steals that led to fast-break opportunities.
And all of that was no easy feat, considering it came against Seaman's long, physical roster, especially its two talented forwards: 6-foot-3 Jacob Hurla (11 points) and 6-7 Connor McDaniel (12 points).
"We knew it was going to be a dogfight," said Watson, who was also praised by Law for his tough defense on Hurla. "We came in ready to play."
Senior Evan Manning filled up the score sheet with 11 points, six assists, five steals and three rebounds, senior Alec Heline added nine points, and junior Brett Frantz chipped in with seven.
Junior Shawn Knighton also stood out for his passing and relentless on-ball defense, but the star of the night — no matter how reluctant he was to acknowledge it — was Watson.
"It feels good, but you can only celebrate for so long," Watson said. "Tomorrow we've got to go back to work in practice."
Copyright 2018 The Lawrence Journal-World. All rights reserved. This material may not be published, broadcast, rewritten or redistributed. We strive to uphold our values for every story published.