Photo Gallery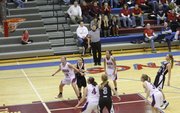 Free State girls basketball vs. Topeka Seaman
The Free State High School girls notched their first win of the season by knocking off the Vikings, 48-45 on Tuesday.
"I thought we made big plays when we needed to," girls coach Bryan Duncan said. "I think you saw a lot of young players really make big plays on both ends of the floor when necessary."
Just by looking at her, it'd be impossible to fathom that sophomore Kennedy Kirkpatrick constantly battles nerves before games.
Once the game tips off, Kirkpatrick sports a big grin on her face all game, regardless of the scenario.
"I just try to stay mellow and calm and stay positive," she explained. "It just keeps my head clear and helps me out a little bit."
Kirkpatrick led the relatively inexperienced Firebird girls (1-1) with 17 points and three assists, including several crucial baskets and one big steal, down the stretch.
Sophomore Chelsea Casady chipped in six points and four rebounds, junior Jackie Garcia added four points and four rebounds, and sophomore Alexa Gaumer added six points off the bench.
"It was a good team experience," Kirkpatrick said. "I think we just had to learn how to pull through. We're young, and we just have to push through these experiences."
Copyright 2018 The Lawrence Journal-World. All rights reserved. This material may not be published, broadcast, rewritten or redistributed. We strive to uphold our values for every story published.