The days of summer are winding down, bringing with them nights perfect for sitting on your deck/patio/porch/balcony /couch and enjoying yourself before the temperature plummets us into fall and (shudder!) winter.
Warm yourself with the thought of sitting with your feet up, a book in one hand and one of these fabulous drinks, just perfect for sipping outside, in the other. Some of our finds are soft, some are hard, and at least one has a twinge of fall (if that's what you're looking for).
Of course, you could enjoy them all year long, but the refreshing idea of watermelon lemonade, mango agua fresca and peach-berry iced tea sounds too good to pass up as we grasp for the last strains of summer.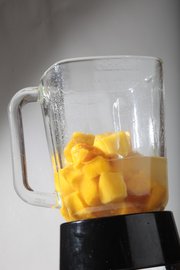 Mango Agua Fresca
1 ripe mango, peeled, pitted and cut into chunks
1 1/2 cups cold water
1/2 teaspoon freshly squeezed lime juice
1/2 teaspoon agave nectar or honey, more or less to taste
Lime wedge and mint leaves for garnish
In a blender, combine mango and water and blend until smooth. Pour through a strainer into ice-filled glasses. Stir in lime juice and agave. Garnish with lime and mint, and serve.
— Recipe from www.wholefoodsmarket.com.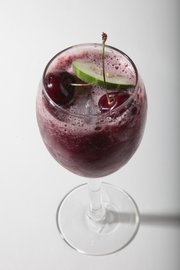 Cherry-Cucumber Coolers
1 pound cherries, divided
2 cucumbers
1 cup pomegranate juice
1/2 cup lightly packed mint leaves
1 (1-liter) bottle sparkling mineral water
Agave nectar to taste (optional)
Set aside 8 cherries to use for garnish and then pit remaining cherries and transfer to a blender. Slice half of one cucumber into thin rounds and set aside with whole cherries to use for garnish. Peel, seed and chop remaining cucumbers and add to pitted cherries along with juice and mint and purée until smooth.
To make each cooler, pour about 1/2 cup of the cherry mixture into an ice-filled glass, top off with about 1/2 cup sparkling water and garnish with cucumber slices and cherries. Serve with agave nectar for sweetening to taste.
— Recipe from www.wholefoodsmarket.com.
Peach-Berry Iced Tea
8 rooibos tea bags
2 peaches or nectarines, peeled, pitted and sliced
1 cup fresh blueberries or sliced strawberries
3 tablespoons light agave nectar
Put 6 cups water into a medium pot and bring to a boil. Remove from the heat, add tea bags, cover and steep 6 to 7 minutes; discard tea bags. Meanwhile, purée half of the peaches and blueberries with agave nectar in a food processor or blender until smooth; transfer to a large pitcher with remaining fruit. (Alternately, muddle fruit in pitcher with a wooden spoon.) Add 3 cups ice cubes to pot with hot tea and stir until melted; pour tea into pitcher with fruit. Serve immediately over ice, or chill until ready to serve.
— Recipe from www.wholefoodsmarket.com.
Gravenstein Apple Cider
1 gallon apple juice
1 teaspoon ground allspice
1 teaspoon ground nutmeg
2 cinnamon sticks, more for garnish
1 tablespoon whole cloves
Combine all ingredients and simmer over low heat for 15 to 20 minutes. Remove cinnamon sticks. Ladle into mugs and garnish with fresh cinnamon sticks for each serving, if desired.
— Recipe from www.wholefoodsmarket.com.
Noah's Ginger Ale
2 tablespoons peeled and diced fresh ginger root
2 cups water
2 cups sugar
Ice
Sparkling water
Cherries
Place ginger, water and sugar in a saucepan. Bring to a boil. Reduce heat to medium and simmer about 10 minutes. Cool and strain. Syrup can be chilled in the refrigerator for a week.
To serve, fill glasses with ice cubes. Add a tablespoon of ginger syrup and top with sparkling water. Stir and top with a cherry. Taste and add more syrup if desired.
— Recipe from www.wholefoodsmarket.com.
Mango Papaya Lemonade
1 1/2 cups chunked mango
1 1/2 cups chunked papaya
2 1/2 cups cold water, divided
1/2 cup fresh lemon juice
1/2 cup granulated sucralose sweetener or sugar
Ice cubes
Fresh mint springs (optional)
Place mango and papaya chunks in blender or food processor with 1/2 cup water. Cover; blend until smooth. Add remaining 2 cups water; blend until smooth. Pour mixture through strainer into large pitcher. Stir in lemon juice and sweetener; add more to taste, if necessary. Pour into ice-filled glasses. Garnish with mint leaves, if desired.
— Recipe from www.dole.com.
Sangria Coolers
1 (1 liter) bottle sangria
2 plums, pitted and sliced, plus more for garnish
1/2 pound cherries, stemmed and pitted
2 (12-ounce) cans ginger ale
Ice for glasses
Working in 2 batches, purée Sangria, plums and cherries until smooth. (Strain through a fine sieve and discard any solids, if you like.) Pour over ice in tall glasses, top off with ginger ale, garnish with additional sliced plums and serve.
— Recipe from www.wholefoodsmarket.com.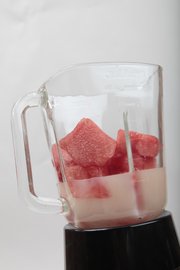 Watermelon Lemonade
6 cups, 1-inch cubes seedless watermelon (from about a 5-pound melon)
1 bottle (10-ounce) lemon juice
6 cups water
3/4 cup cane sugar
Crushed ice
Mint sprigs, for garnish
Working in batches as necessary, purée watermelon and lemon juice in blender until smooth; transfer to a large container. Add water and sugar; stir until dissolved. Pour over ice in tall glasses, garnish with mint and thin slices of watermelon, if desired, and serve.
— Recipe from www.wholefoodsmarket.com.
Creole Champagne Punch
1 pineapple
2 bottles dry white wine
1 pint curaçao (white or orange)
1 1/2 cups sugar
1 pineapple
Block of ice (punch bowl size)
4 quarts sparkling water
2 bottles champagne
1 quart strawberries quartered
Mix the wine and the curaçao, adding the sugar until completely dissolved. Shred 1/2 of the pineapple by cutting it into quarters, removing the core, and either putting peeled pieces in the food processor or scraping unpeeled quarters against the large holes of a grater. Peel the other half and cut into slices. Add the grated pineapple to the wine mixture and pour over a large block of ice in a punch bowl. Just before serving, add the sparkling water and champagne and float the pieces of pineapple and strawberries on top.
— Recipe from www.melissas.com.
Rose Petal Liqueur
3 cups edible flowers (use rose petals)
1 strip lemon rind
1 bottle brandy or you can substitute vodka or rum if you prefer
1 1/2 cups sugar
Choose roses that have not been sprayed with insecticides or polluted by exhaust fumes. Rinse and carefully dry the petals if they are dusty. Put the rose petals and the lemon rind in a wide-mouthed screwtop jar. Cover with the brandy, seal, and leave in a cool place for 28 days, shaking occasionally. Add the sugar, and leave for 14 days, shaking well once or twice a day, so that the sugar is dissolved. Strain off the petals and discard them. Decant the brandy into a sterilized bottle. Seal tightly and leave to mature for at least a month in a cool, dark place before using.
— Recipe from www.melissas.com.
Copyright 2018 The Lawrence Journal-World. All rights reserved. This material may not be published, broadcast, rewritten or redistributed. We strive to uphold our values for every story published.