Bear with me, this story isn't about West Lafayette, Ind. It is about Lawrence's future. But Lawrence's crystal ball, these days, might be found in the home of the Purdue Boilermakers.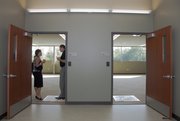 In this smallish university community about an hour outside Indianapolis, a nice piece of ground sat with a sign proclaiming it Purdue Research Park. For about three decades, the sign was pretty much the main tenant.
But then, in the mid-1990s, Purdue leaders began to pay more attention to the nice piece of ground. By 1999, they had put an official plan on paper. Now, just 11 years later, the Purdue Research Park is home to more than 160 companies that employ 3,200 people at an average annual wage of $58,000.
It has been a rising tide that apparently has lifted all boats. In West Lafayette — according to one U.S. Census Bureau measurement — the average wage for a full-time worker is $14,000 more per year than it is in Lawrence.
The park — now 725 acres with 50 buildings — has grown to the point that leaders reject many companies that want to locate there because they don't have a strong enough relationship with Purdue.
"When I talk to other communities that have this ambition, I emphasize that you shouldn't judge results for seven to 10 years," said Joe Hornett, the chief operating officer for the Purdue Research Foundation. "That's when the flywheel really starts turning and it becomes a perpetual motion machine."
Back in Lawrence, Matt McClorey stands in the newly opened 20,000-square-foot Bioscience and Technology Business Center on Kansas University's West Campus. McClorey — and a whole bunch of other area economic development leaders — are betting that Lawrence has found its flywheel.
A one-stop shop
McClorey, as director of Lawrence Regional Technology Center, runs the day-to-day operations of the new facility, 2029 Becker Drive.

He's a guy who's used to figuring out tough questions. As the director of LRTC, a big part of his job has been to figure out how to convince venture capital firms that it is a good idea to put money into Lawrence start-ups. Over the last seven years, he's been part of an effort that has raised $180 million in venture capital for area companies.
But he hadn't been able to figure out an answer to a question that kept coming up as he talked to KU scientists. The scientists were on the verge of doing something important, like figuring out a new treatment for a disease or figuring out how to make an existing drug better. They were excited, and they always would hit McClorey with the same question.
"They would say, 'Great, let's start up a company. Where do I locate my lab?'" McClorey said. "And we didn't have a good answer for that. Now, we have a great answer for that."
Lawrence's new high-tech business center — more commonly called an incubator — is meant to be a one-stop shop for KU researchers who want to take their findings and turn them into businesses.
The center provides big-ticket items, like business plan writing, management assistance and capital fundraising. But it also takes care of some of the smaller items — like receptionist service, desks, chairs, Internet connections — that can cause aspiring business owners to pull their hair out.
"Literally, a company could move out of the university one day and have an office ready the next day," said McClorey.
And the center answers the question that got this whole project rolling — lab space. The center has wet lab space to accommodate more than a half-dozen companies at any one time, McClorey said. The labs are equipped with high-tech air handling systems, special water filtration devices and other specialty equipment that made it hard to convert existing Lawrence office space — of which there is plenty — into laboratory space.
"We went from not having a good answer on the lab question to now being able to say we have first-class laboratory space right across the street from the university's main research complex," McClorey said, referring to the adjacent Multidisciplinary Research Building and the new School of Pharmacy building. "This now really gives us a compelling argument to keep new start-ups here instead of watching them go somewhere else."
Public help
Keeping start-up businesses in Lawrence is the goal that has gotten local taxpayers involved with the project. Lawrence City Commission and Douglas County Commission each have committed $75,000 per year for 10 years to the center. The Lawrence-Douglas County Bioscience Authority — which is largely funded by the city and the county — also has committed $500,000. Other funders for the $7.5 million project include KU Endowment, the university and Kansas Bioscience Authority, which provided $3.25 million for the effort.
Local taxpayers are investing in the bioscience effort in other ways, too. The city and county have issued about $3 million in bonds to purchase and renovate the former Oread Labs building near Bob Billings Parkway and Wakarusa Drive. That facility is being used as a "graduation facility," which will house companies that have outgrown the incubator space but aren't yet ready to build their own facility.
The city also is in the process of taking over ownership of the former Farmland Industries plant in east Lawrence. That will be a multi-million dollar project to extend infrastructure and convert the former fertilizer facility into a business park that could house high-tech companies.
In other words, Lawrence is making a big bioscience bet. Thus far, public officials say they feel good about the potential payoff.
"We're well-positioned in what I like to consider the bioscience corridor that stretches from Johnson County to Manhattan," said Douglas County Commissioner Jim Flory, who also is a member of the local bioscience authority. "Bioscience has the potential to really make a difference in Douglas County, and I'm not just talking for the next two years. I'm talking for the next 20 to 30 years.
"It is important that we succeed to have the type of community, the type of jobs, the type of wages that we want in Lawrence and Douglas County."
Copyright 2018 The Lawrence Journal-World. All rights reserved. This material may not be published, broadcast, rewritten or redistributed. We strive to uphold our values for every story published.