Topeka — The State Objections Board on Friday rejected an attempt by a Eudora man to be placed on the ballot in the 3rd Congressional District.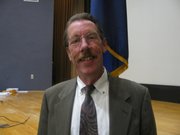 Wayne Briscoe, 57, a telecommunications account manager, said he will appeal the board's unanimous decision to federal district court. "I don't quit," Briscoe said.
Briscoe had provided petitions with 7,609 signatures to get on the Nov. 2 ballot. An independent congressional candidate needs 5,000 signatures to get on the ballot.
But the secretary of state's office ruled that many of those signatures were invalid, bringing the number below 5,000.
The office said affidavits signed by petition circulators were dated before the dates of many of the signatures. The sworn statements declare that the circulator "witnessed" the signature. Officials with the secretary of state's office said the circulators couldn't swear to witnessing something before it happened.
But Briscoe said the sworn oath taken by circulators was accurate -- they did witness the signatures, he said.
He said access to the ballot for candidates was a fundamental right that shouldn't be dismissed on a technicality.
"What's the worst that can happen? The voters of the 3rd District get another choice," he said.
But the three members of the State Objections Board -- Attorney General Steve Six, Secretary of State Chris Biggs, and Lt. Gov. Troy Findley -- disagreed with Briscoe and rejected his appeal. Biggs said rules are needed to conduct orderly elections.
After the ruling, Briscoe blamed both major political parties for blocking independents. "The Democrats and Republicans are on the ropes," he said.
Bob Schmidt of Gardner, who was Briscoe's petition coordinator, said the board's decision was "utter and complete balderdash."
Copyright 2018 The Lawrence Journal-World. All rights reserved. This material may not be published, broadcast, rewritten or redistributed. We strive to uphold our values for every story published.