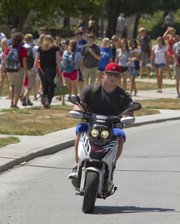 Mo-peds on campus
What Kansas University mo-ped drivers should know:
• Mo-peds must be parked in designated mo-ped zones around campus. There are 262 mo-ped parking spaces in 28 locations. They are marked with signs. For a map, go online to parking.ku.edu/ mopedmap.pdf.
• Mo-peds can no longer park at bike racks or in motorcycle zones. They also can't park in vehicle parking spaces.
• Except for staff, mo-peds are no longer allowed on Jayhawk Boulevard during restricted hours.
• Mo-peds cannot be driven on the sidewalk or lawn.
• KU Parking & Transit follows state license plates in determining what is a mo-ped.
• KU will hand out warning tickets until Friday. The fine for not having a parking permit is $20. The fine for parking in the wrong zone is $10. An annual parking permit for a mo-ped is $15.
• In downtown Lawrence, mo-peds can park in any stall but can't park at a bike rack. There are designated mo-ped stalls in parking lots along New Hampshire and Vermont streets, the city parking garage and the Riverfront Plaza.
Kansas University mo-ped users can say goodbye to rock star parking.
At the start of classes last week, students and staff were greeted with 262 mo-ped parking spaces scattered in 28 parking lots throughout campus. Those opting to park their mo-peds in bike racks or in motorcycle zones were likely to find warning tickets on them.
Among those ticketed was fourth-year KU business student Andrew Sigler. Running late to his first day of class, Sigler parked his mo-ped in the bike rack behind Budig Hall.
When he came out, he had a $20 ticket.
"I bought this simply so I could drive to campus, park close to my class and walk in," Sigler said. "But obviously now that is not going to be as easy. So I'll have to find other ways to get to class on time."
The new parking regulations follow a rising wave of mo-peds on KU's campus. Two years ago, 178 mo-ped permits were purchased at KU. Data isn't available for the 2009-2010 school year yet. But with classes barely under way, more than 60 permits have already been issued for mo-peds this semester.
Along with being easier to park, mo-peds are incredibly fuel efficient and come with a $15 annual parking permit — compared with vehicle permits that can range from $90 to $285.
"People are looking for different ways to get to campus, and the buses have helped out quite a bit. But a lot of people have turned to these alternative methods of transportation. And mo-peds are one of them," said Donna Hultine, director of KU Parking & Transit.
Until now, mo-peds could travel along Jayhawk Boulevard, which has restricted access during the day. Another significant perk was parking at bike racks that sit next to many entrances.
"Parking close to the building is probably one of the biggest reasons I ride a mo-ped. That and the much cheaper parking pass rate," said Courtney Foat, a mo-ped driver who for two years was able to park right behind Watson Library where she works.
On the first day of class, Foat rode her mo-ped down the street to the Kansas Union for coffee. She pulled up right beside the bike rack just a few steps away from the door.
"It's a luxury," she said.
Others see it as more of a nuisance. With the rising number of mo-peds comes increasing conflict with pedestrians and motorcyclists.
Last fall at the school's annual open hearing on parking issues, a major theme was mo-ped parking, Hultine said.
Among the complaints was that mo-ped drivers were parking in motorcycle zones in a way that made it hard for motorcycles to park there. To navigate to the bike rack, many mo-ped users were driving on sidewalks, forcing pedestrians to jump out of the way. The mo-peds were also taking up a significant amount of room at the bike racks and spreading onto the lawn.
"It was this perfect storm of all these things," Hultine said.
The challenge for the parking department was finding a way to create new parking for mo-peds without taking away spots for motorcycles.
That had the department scouring campus for slivers of land that wasn't already in parking. They also converted 112 car-parking spaces into mo-ped-parking spaces. In all, 262 mo-ped spaces were made available.
Hultine knows the change won't be popular with many. Those who drive cars aren't happy that valuable parking spots are being taken up by mo-peds. And mo-ped users can't park close to the building any more.
"We are trying to take all the feedback we are getting, and we are taking it really seriously," Hultine said.
She noted the parking changes were made with paint and moveable signs, so nothing is set in stone.
"I would say we are going to be tweaking this on the fly as we learn more information," Hultine said.
Copyright 2018 The Lawrence Journal-World. All rights reserved. This material may not be published, broadcast, rewritten or redistributed. We strive to uphold our values for every story published.