K-10 and Lexington Ave.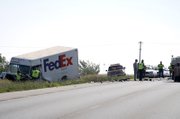 De Soto — A 23-year-old Lawrence woman died Thursday morning in a head-on collision on Kansas Highway 10.
Amanda Newton was driving east on K-10 when her Ford Escort crossed the median and hit a FedEx truck heading west at 8:20 a.m. just west of De Soto.
Newton was killed and the driver of the truck, Donavan Henderson, of Kansas City, Mo., was injured. Henderson is in stable condition at Overland Park Regional Medical Center.
Westbound lanes of K-10 at Lexington Avenue were closed and eastbound traffic was reduced to one lane for nearly four and a half hours while crews cleared the scene.
Copyright 2018 The Lawrence Journal-World. All rights reserved. This material may not be published, broadcast, rewritten or redistributed. We strive to uphold our values for every story published.