Khabari Crossing, Kuwait — Editor's note: The 4th Stryker Brigade, 2nd Infantry Division was officially designated the last combat brigade to leave Iraq under Obama's plan to end combat operations in Iraq by Aug. 31. Associated Press writer Rebecca Santana joined the troops on their final journey out of the country.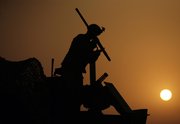 As their convoy reached the barbed wire at the border crossing out of Iraq on Wednesday, the soldiers whooped and cheered. Then they scrambled out of their stifling hot armored vehicles, unfurled an American flag and posed for group photos.
For these troops of the 4th Stryker Brigade, 2nd Infantry Division, it was a moment of relief fraught with symbolism. Seven years and five months after the U.S.-led invasion, the last American combat brigade was leaving Iraq, well ahead of President Barack Obama's Aug. 31 deadline for ending U.S. combat operations there.
When 18-year-old Spc. Luke Dill first rolled into Iraq as part of the U.S. invasion, his Humvee was so vulnerable to bombs that the troops lined its floor with flak jackets.
Now 25 and a staff sergeant after two tours of duty, he rode out of Iraq this week in a Stryker, an eight-wheeled behemoth encrusted with armor and add-ons to ward off grenades and other projectiles.
"It's something I'm going to be proud of for the rest of my life — the fact that I came in on the initial push and now I'm leaving with the last of the combat units," he said.
He remembered three straight days of mortar attacks outside the city of Najaf in 2003, so noisy that after the firing ended, the silence kept him awake at nights. He recalled the night skies over the northern city of Mosul being lit up by tracer bullets from almost every direction.
Now, waiting for him back in Olympia, Wash., is the "Big Boy" Harley-Davidson he purchased from one of the motorcycle company's dealerships at U.S. bases in Iraq — a vivid illustration of how embedded the American presence has become since the invasion of March 20, 2003.
That presence is far from over. Scatterings of combat troops still await departure, and some 50,000 will stay another year in what is designated as a noncombat role. They will carry weapons to defend themselves and accompany Iraqi troops on missions (but only if asked). Special forces will continue to help Iraqis hunt for terrorists.
So the U.S. death toll — at least 4,415 by Pentagon count as of Wednesday — may not yet be final.
The Stryker brigade, based in Joint Base Lewis-McChord in Washington state and named for the vehicle that delivers troops into and out of battle, has lost 34 troops in Iraq. It was at the forefront of many of the fiercest battles, including operations in eastern Baghdad and Diyala province, an epicenter of the insurgency, during "the surge" of 2007. It evacuated troops at the battle of Tarmiyah, an outpost where 28 out of 34 soldiers were wounded holding off insurgents.
Before the Aug. 31 deadline, about half the brigade's 4,000 soldiers flew out like most of the others leaving Iraq, but its leadership volunteered to have the remainder depart overland. That decision allowed the unit to keep 360 Strykers in the country for an extra three weeks.
U.S. commanders say it was the brigade's idea, not an order from on high. The intent was to keep additional firepower handy through the "period of angst" that followed Iraq's inconclusive March 7 election, said brigade chief, Col. John Norris.
Copyright 2018 The Associated Press. All rights reserved. This material may not be published, broadcast, rewritten or redistributed. We strive to uphold our values for every story published.