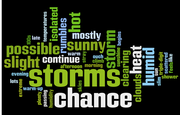 Yes, it's been hot; a lot hotter than last year. And the July and August heatwave of 2010 has been good for the ice cream business.
Over at Sylas and Maddy's Homemade Ice Cream, 1014 Mass., manager Kyleigh Garman said the business has seen a bump this year, as area residents have been eating ice cream in droves. The store has had to add staff for the busiest periods, when area shoppers stop by and cool off in the air conditioning and enjoy an ice cream cone.
"It gets pretty nuts in here," she said.
And while statistics aren't needed to tell us it's been blazing here in Lawrence during the past month, the numbers give a good sense of how much hotter it's been in 2010 compared to last year's milder summer weather. Here's a look at a few factors affected by the summer heatwave.
Lawrence Outdoor Aquatic Center attendance
July 10- Aug. 9, 2009: 17,892
July 10- Aug. 9, 2010: 25,155
Weather comparison, July 10 to Aug. 9:
2009
Average high: 77.3 degrees
Average low: 66.8 degrees
High: 97.5 degrees
Low: 59.2 degrees
Number of days in the 90s: 7
Number of days in the 100s: 0
2010
Average high: 81.9 degrees
Average low: 72.6 degrees
High: 103.1 degrees
Low: 65.1 degrees
Number of days in the 90s: 20
Number of days in the 100s: 4
Weather figures provided by the Weather Underground
Heat-related ER visits at Lawrence Memorial Hospital:
July 2009: 3
July 2010: 11
Gallons of water pumped into distribution in Lawrence from July 10 to Aug. 9
2009: 374.8 million gallons
2010: 441.5 million gallons
Numbers aren't for actual usage, but an indicator of demand for water.
Electricity usage in Westar Energy coverage area
Up 11 percent in summer of 2010 compared to 2009
Copyright 2018 The Lawrence Journal-World. All rights reserved. This material may not be published, broadcast, rewritten or redistributed. We strive to uphold our values for every story published.