In Donna Lang's room at Kennedy School, there are no homework assignments, no math problems and not even any desks.
Talk about a dream: Sleeping for 90 minutes after lunch actually is encouraged.
"This is school," Lang said with a broad smile Monday, before ushering her charges to one of four potty breaks for the day. "They're learning how to sit and listen and stay on task."
Welcome to the first day of school for the youngest pupils in the Lawrence school district: 130 preschoolers at Kennedy, the new home for the district's Pre-K program.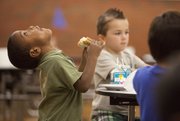 The school at 1605 Davis Road, which is across Harper Street from the Douglas County 4-H Fairgrounds, is welcoming such youngsters for the first time. A reconfiguration and remodeling project brought kids over from East Heights School, a property that now accommodates the Boys and Girls Club.
At Kennedy, 4- and 5-year-olds now snack, nap and learn in rooms that formerly had been home to traditional elementary classes. Only now, the spaces have been outfitted with $70,000 worth of additional doors and other features designed to accommodate the needs of the pre-K crowd.
The program is operating at capacity, in both full-day and half-day versions.
"It's an exciting day. It's an emotional day," said Cris Anderson, in her first year as Kennedy principal, after previously leading the East Heights Early Childhood Center. "This is the first time that a lot of parents have had their 4-year-olds leave home and be at someplace called school."
Hannah Hillebert, 4, grinned her way through her first day of class — learning to sit quietly with her legs crossed, raise her hands in conjunction with music and line up before heading to the cafeteria for a yummy turkey sandwich.
She also managed to stomp playfully in the hallway, lighting up her new Twinkle Toes shoes while reflecting on her favorite part of school.
"We get to play in the pool," she said, without a moment's hesitation.
Ah, yes. Preschool.
The "pool," of course, actually is a "Sensory" center by the classroom's front door: a raised-edge table that for one day, at least, had been topped with water and a collection of rubber duckies, toy fish, a funnel and other items to give youngsters a chance to feel, play and learn.
"It's going wonderfully," Lang said, preparing for nap time. "I don't think they get to 'swim' in any other class."
No, Kennedy's other 274 students — the ones in kindergarten through sixth grade — started last week, and already are getting homework assignments, working on math problems and sitting at their desks.
For Hannah and her 129 classmates in the Classes of 2022 and 2023, such responsibilities will just have to wait.
Copyright 2018 The Lawrence Journal-World. All rights reserved. This material may not be published, broadcast, rewritten or redistributed. We strive to uphold our values for every story published.