N. 100 and E. 750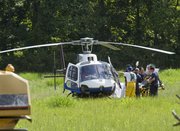 A 27-year-old Burlingame man was flown to a Topeka hospital after he suffered injuries in a trench collapse Monday afternoon in rural Douglas County, Douglas County Undersheriff Steve Hornberger said.
Emergency officials don't think the man's injuries were life-threatening, the undersheriff said. The man, Joseph Succi, was working to replace tubing on the dam of a pond at 733 N. 100 Road when dirt from the side of a trench gave way.
Lawrence-Douglas County Fire Medical and sheriff's officers were called about 3 p.m. to the scene, about 10 miles west of Baldwin City.
Hornberger said the dirt struck Succi and pinned his legs for a short period of time. He was out of the trench when responders arrived.
Succi was flown via helicopter ambulance to Stormont-Vail Regional Health Center, where a spokeswoman said no information about his condition was available Monday night.
The sheriff's office is investigating whether Succi was employed by the company in charge of the construction site.
Copyright 2017 The Lawrence Journal-World. All rights reserved. This material may not be published, broadcast, rewritten or redistributed. We strive to uphold our values for every story published.