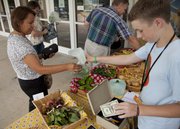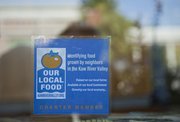 It's no secret the local food movement has legs and has become more and more popular over the last few years, but what exactly is local?
-->
A new initiative aims to help give consumers a good definition and a way to easily know if so-and-so is in your backyard or across state lines.
Our Local Food-Kaw River Valley is a program designed to identify local foods and get them into stores, restaurants and other local businesses by creating a reliable network of food producers and retailers within the 12 counties of the Northeastern Kansas portion of the Kaw River Valley. Food producers within the region, which includes Douglas, Jefferson, Leavenworth, Shawnee and Johnson counties, who sign up for the program will have their produce labeled with special Our Local Food sticker, signifying that it is indeed local. And restaurants and businesses that become members will be able to use the label on their store fronts, menus and displays.
The goal, says Mercedes Taylor-Puckett, who is heading the program for the Kansas Rural Center, is to help make it easy for consumers to identify local foods and for retailers to use more local products by finding local food producers who fit their needs.
"The label, it is a mechanism to label or trace food from the farm through all the different marketing channels. So consumers are able to find local food, wherever they spend their food dollars, whether that be at a farmers' market, a grocery store, a farm stand or a restaurant," says Taylor-Puckett, who set up the program, which is a chapter of the national Buy Fresh, Buy Local initiative. "It's a whole web that tries to capture all the different elements for our local food economy."
The participants
Charter members of the program include the Lawrence, Rosedale, Atchison and Perry-Lecompton farmers' markets, Free State Brewery, 715, Pachamama's, Wheatfields Bakery and Cafe, Checkers and The Community Mercantile, which is using the Our Local Food stickers in its annual Eat Local Challenge, which began Saturday.
There is also a level of membership for everyday consumers, who can become program members called Vocal Locals. Consumers who sign up to be Vocal Locals receive comment cards they can use to help get local foods into their favorite restaurants and retailers. Taylor-Puckett says the cards state, "I'm your customer and I'd love to buy and eat locally grown foods. I've made a commitment to support family farmers by eating more products that are seasonal and grown closer to home." On the other side, customers can tell the restaurant exactly how they feel about local foods.
"The other side gives them an opportunity to write a comment like, 'I really wish you carried Irick Farms cantaloupes' or 'Thank you so much for having Bauman's chicken on your menu,' and so that shows businesses that perhaps aren't buying local foods, that there's a demand," Taylor-Puckett says. "And then, they can contact us."
Getting involved
Of course, you don't have to be a member to be involved in the program — just buying an item with the Our Local Food sticker on it is enough to boost the local economy. That's something Josh Kendall, brand manager for the Merc, is hoping the label can achieve just by being there and creating a one-stop-shop for customer demand.
"It's kind of letting consumers know that there is a lot of local food options and it's not just at The Merc (that) you can find it, or at the farmers' market, but a way for them to start to see the label used through restaurants downtown," says Kendall, who worked closely with Taylor-Puckett to integrate the Our Local Food label into this year's Eat Local Challenge. "The more local food is incorporated into that, it just becomes more of a genuine presentation within our town of local food."
Copyright 2018 The Lawrence Journal-World. All rights reserved. This material may not be published, broadcast, rewritten or redistributed. We strive to uphold our values for every story published.