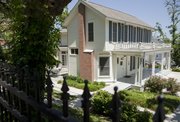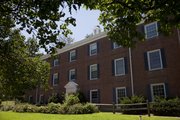 Scholarship Hall Roster
Battenfeld Hall 1425 Alumni Place (785) 812-3158 | men
Grace Pearson Hall 1335 Louisiana Street (785) 812-1772 | men
K.K. Amini Hall 1318 Louisiana Street (785) 812-3182 | men
Krehbiel Hall 1301 Ohio Street (785) 812-3715 | men
Pearson Hall 1426 Alumni Place (785) 812-1770 | men
Stephenson Hall 1404 Alumni Place (785) 812-1727 | men
Watkins Hall 1506 Lilac Lane (785) 812-3138 | women
Sellards Hall 1443 Alumni Place (785) 812-1756 | women
Miller Hall 1518 Lilac Lane (785) 812-1980 | women
Margaret Amini Hall 1312 Louisiana Street (785) 812-3423 | women
Dennis E. Rieger Hall 1323 Ohio Street (785) 812-3710 | women
Douthart Hall 1345 Louisiana Street (785) 812-1787 | women
Four years ago, when Michael Rockford went off to college, he was nervous about making friends.
Sure, he'd attended a large high school in Kansas City, one with more than 1,800 students. But KU's 30,000 plus student population was still intimidating. To ease his fears, Rockford applied to live in K.K. Amini Hall, one of KU's 12 scholarship halls, hoping it would be the impetus to forging rich, lasting connections. And Rockford says his decision proved to be one of his shrewdest.
"I made friends instantly, the very first night I was here," says Rockford. "(Living in the schol halls) is something unique. By the end of the first week, you know the 50 residents living in that building."
With a lifestyle based on cooperative living, KU's 12 scholarship halls house nearly 600 students — six for women, six for men. An alternative to dormitories and off-campus living, the schol halls attract a lot of interest, but qualifying for admittance can be tough. And with a grade point average hovering exceptionally close to 4.0, students in schol halls have to stay focused on studies in order to remain residents.
"What happens is we have such wonderful students vying for those slots that the average grade point average stays very close to 4.0," says Diana Robertson, director of student housing. "And if a student has a bad semester, or somehow does not perform to the ability we foresaw, they can't stay there."
This results in students flipping through note cards and perusing textbooks in hallways and communal living rooms at all hours of the day. And the fact that residents are focused on earning good grades causes a healthy crop of study groups to pop up each semester.
"Lots of study groups are formed within scholarship halls, and it helps that, generally, at night, you can always find people studying or find someone to study with," says Kayleigh Peterson, a senior and resident of Douthart Hall.
Each house is different. But they're all centered on the idea of communal living. While sharing amenities, students cook and clean together. The collective chores and shared living space produces intimate connections. And this close-knit living situation encourages retention, Robertson says.
"Students typically do stay all four years," she says.
At the same time, that setting can cause problems.
"After a while, people get annoyed at each other," says Peterson. "It's easier to make bonds, but you also have to put up with people if you don't agree with them. At the end of the year tempers flare, and it can be hard at times."
Each student is required to do four to six hours of communal work per week, scrubbing bathrooms, kitchens or public areas. Cooking is another activity students do together. Each night, for dinner, two students whip up a meal for the other forty-plus residents. The cool thing? They get to pick what to prepare.
"Sometimes it's something as simple as hot dogs and french fries," says Rockford. "Sometimes it gets a little creative and sometimes it can get a little too creative."
At Douthart Hall, says Peterson, a student who hasn't slung a meal together yet is paired with someone who has.
"It can be overwhelming at first," says Peterson. "But it's really pretty simple."
With social activities and historical traditions infused into each semester, there's a healthy social life within schol halls. Sometimes two halls, one male and one female, will combine to host an event, usually a dinner or a dance. Other times, one hall will sponsor a big event, inviting all of the other scholarship hall residents. Last year, Amini had the Amini Weenie Roast.
"It was kind of tongue in cheek, but it was basically a giant backyard barbecue," says Rockford. "I really think my favorite aspect of living in the scholarship hall is just the tradition that is here."
Residents at scholarship halls also try to make a positive impact on the community. For instance, many residents spend time volunteering at the Jubilee Cafe or the Humane Society.
And there's something about the schol halls that remains important to students even after graduation.
"We receive a lot of support from alumni," says Robertson. "Many students so valued their time, they continue to show support by providing scholarships for students who live there."
The scholarship halls glean $80,000 annually in contributions from alumni.
Rockford acknowledges he may eventually become one of those supporters.
"I will definitely say this: It will be one of the biggest memories I have," says Rockford. "I've enjoyed every single minute of living here. It's an experience you can't get at any other university. It's definitely going to be the first thing I'm going to miss. And it's going to be hard to let go."
Copyright 2018 The Lawrence Journal-World. All rights reserved. This material may not be published, broadcast, rewritten or redistributed. We strive to uphold our values for every story published.