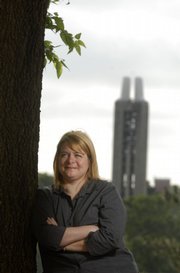 On college campuses around the world, an ombudsman refers to an "agent for justice." On Kansas University's campus, this person is Kellie Harmon.
KU's ombudsman office was created in 1977 with the purpose of ensuring members of the university receive fair and equitable treatment. Along with Harmon, two part-time faculty members also serve as ombudsmen.
Students, faculty and staff can call on the office for matters ranging from conflicts with supervisors and instructors to policy consultation and bullying. From March 2008 through June 2009 the office had nearly 500 contacts. Most of the cases dealt with unclassified professional staff and undergraduate students. The staff at the office attempts to resolve these cases by operating under four basic principles: confidentiality, impartiality, informality and independence.
It is a resource for university members who don't want to go through official channels of filing complaints, but instead want to work through problems and receive assistance in an informal manner.
Harmon said the office differs from others around campus because it is confidential and off the record. She said the office is important because campuses need several options for a person to address an issue.
"It's a place people can feel safe, not fear retaliation and bring issues to the surface that wouldn't otherwise be heard," Harmon said.
Harmon said some of the most common concerns she hears from students focus on conflicts with professors, grade-related issues or questions about academic misconduct. She said sometimes she helps students overcome anxiety through role-playing and coaching strategies of how to confront professors.
However, Harmon said there are several steps students can take to avoid problems in the first place.
"Go to office hours and introduce yourself. Meet with the professor before issues come up," Harmon said.
She also advises students to read the syllabus carefully, mark exam dates and keep all graded assignments. The office receives most of its calls mid-semester on, and an even higher number during the weeks of and immediately after finals.
Every day is unpredictable for Harmon.
"I sit and listen to people who aren't happy a lot of times," Harmon said. "But I also see all the cooperation, support and community the campus has to offer."
Copyright 2018 The Lawrence Journal-World. All rights reserved. This material may not be published, broadcast, rewritten or redistributed. We strive to uphold our values for every story published.