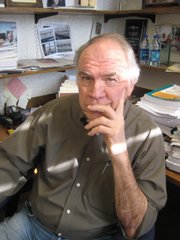 Guiding Principles
All instruction is guided by general education.
All school resources are configured to benefit all students.
School proactively addresses social development and citizenship.
School is data-based learning organization.
School has open boundaries in relation to its families and its community.
School enjoys district support for undertaking the extensive systems-change activities required to implement SAM.
Extra Resources
For more information about SAM & RTI:
For more information about Sailor:
Education means many things to many people. Whether it is the transmission of civilization, a luxury, a responsibility, power, knowledge or invention, it is undoubtedly a cornerstone of society.
Wayne Sailor, professor of special education at Kansas University, has been working on behalf of education for more than 30 years. From California to Washington, D.C., Sailor has traveled the country working to improve school systems. His interests: special education and more specifically, school reform.
After spending years focusing his research on how children with cognitive disabilities learn, he began to focus more broadly on how children learn in general.
"When you learn about how students with the most difficulty learn, it's easy to learn about the rest," Sailor said.
Sailor said the single most important finding from his research on children with disabilities was the idea of integration. Based on his experience and research, there should be no separation between special education and general education.
In the late '70s and '80s, however, this was seen as a nearly impossible task. General education teachers were not trained to work with children with disabilities and general education systems were not prepared to integrate. Sailor did not give up there. He went on to develop training materials for teachers and eventually, schoolwide reform efforts.
"There were two problems I wanted to solve; problem one — integration and problem two — achievement outcomes of students," Sailor said.
His model for solving these problems: SAM. The term stands for Schoolwide Applications Model, a model that promotes integration. The model also follows the RTI approach, or response to intervention. RTI is a series of increasingly intensive interventions with struggling students. It is designed to prevent academic failure by providing early, effective assistance to children who are having difficulty learning.
"The prevention tier lets us look at special education in a different light and effectively address the needs of both groups — special education and general education," Sailor said.
After implementing the system in several complex schools throughout the country, Sailor has proven the system works. Districts filled with poverty, ethnic division, conflict and poor school performance such as Ravenswood, Calif., Kansas City, Kan., New Orleans, and most recently the nation's capital, are all benefactors of Sailor's research.
From 2000 to 2005, Sailor completely transformed White Church Elementary in Kansas City, Kan. By 2005 there were no special education classes at White Church; the school was entirely integrated. And, by the end of that year, the school went from one of the lowest performing schools in Kansas to the highest.
The success of SAM at White Church led to its implementation in districts throughout the country, including the Recovery School district after Hurricane Katrina. Sailor's current focus is implementing the system in Washington, D.C., which is known for a long history of low-performing schools.
"My goal is to reframe educational resources to focus on a common goal — the improvement of academic achievement for all students," Sailor said. "Schoolwide RTI may provide the catalyst to begin to realize that goal in all of our nation's schools."
Copyright 2018 The Lawrence Journal-World. All rights reserved. This material may not be published, broadcast, rewritten or redistributed. We strive to uphold our values for every story published.