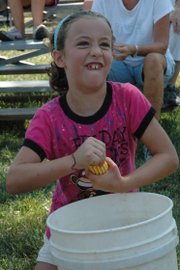 Lily Beach, 8, has figured out the art of corn shelling at a young age, thanks to her previous attendance at the Vinland Fair.
Lily displayed her skills Thursday afternoon at the old-time farm skills contest at the 103rd annual Vinland Fair. She easily won the 8-9 year-old division and might have even won an older division if she had been allowed to compete.
"I don't know," said Lily, the daughter of Silva and Sarah Beach of rural Douglas County. "I've done it before at the fair. Last year, I didn't do as well. My dad makes me do push-ups every day."
Her victory didn't come at an easy cost. She blistered her right thumb during the contest, but kept shelling the corn until time expired.
"My thumb is feeling better," Lily said afterward. "It doesn't hurt as much as it did."
Lily also competed in Thursday's other contests, which included nail-driving, two-person saw and hay bale toss. Dozens of children and several adults won small prize purses for the old-time farm skills contests.
"It's something that they aren't used to doing," said Mike Craig, co-president of the Vinland Fair board. "The competitive nature in them comes out every year at the fair. They want to come out and compete."
The old-time farm skills contests were the highlight of Thursday afternoon. Craig said it's been that way since the event started more than a dozen years ago.
"We've been doing this about 15 years," he said. "Every year it evolves into something else. We started with the four-wheel wagon backing up with a tractor. It got to the point where everybody was embarrassed to try it, so we did away with that and found some easier contests for the kids to start trying."
Children and adults will have the chance to compete today, too. There are stock bicycle races at 10 a.m., followed by sack races, tug-of-war and other races starting at noon. All events take place at the fairgrounds, four miles north of Baldwin City.
"The kids come out for the bicycle and foot races tomorrow," Craig said. "They don't mind the heat."
The temperatures might be warm, but that won't stop the Vinland Fair.
"There's nothing you can do about it," Craig said. "You just have to tolerate it."
Copyright 2018 The Lawrence Journal-World. All rights reserved. This material may not be published, broadcast, rewritten or redistributed. We strive to uphold our values for every story published.