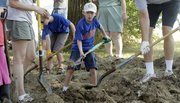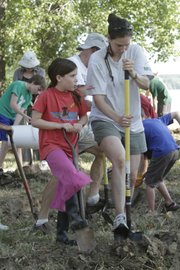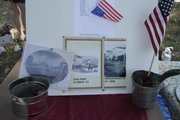 At 7 years old, Brady Traffas could finally join his older brother Kade this year in building mud forts by the Kansas River.
"He'd been hearing about it and was dying to come," said Brady's dad, Daniel. "He got to come out today, and he's loving it."
Daniel and Kade, 10, have been building mud forts for four years during the annual event that commemorates Lawrence's role in the Civil War.
The mud forts, including one with a diameter of 100 feet near Sixth and Massachusetts streets, were used in 1855 by Kansans for protection against Missourians crossing the Kansas River during pre-Civil War battles over slavery.
For Daniel Traffas, the event — part of the "Civil War on the Western Frontier" series — was a chance to spend some quality time with his sons.
"Anytime you get a chance to hang out with your kids on a day off, it's good," he said.
But the mud fort event was also intended to be educational, said local historian and event organizer Katie Armitage.
"We do hope that they learn some history," she said, adding that the mud forts were used during a bloodless battle, as the Kansans and Missourians were able to peacefully "negotiate it out."
In between the mud fort building, Kade had picked up some of the history. He can rattle off many of the facts about the conflicts involving the mud forts, but he had also learned a great deal about building with mud over the past few years.
He explained the basics of making a sustainable mud fort: Dig the hole, reinforce the exterior with wood and solidify with water.
On this day, Kade was staying away from the heavy lifting — he'd leave that to his little brother — and acting more the role of supervisor with his advanced knowledge.
"I'm trying to get my master's degree in mudology," Kade said.
For more information about other events in the Civil War series, which run through Aug. 21, visit www.visitlawrence.com/history.
Copyright 2018 The Lawrence Journal-World. All rights reserved. This material may not be published, broadcast, rewritten or redistributed. We strive to uphold our values for every story published.