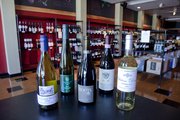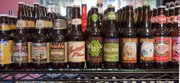 Place
4821 W. Sixth Street, Suite N , Lawrence
Shopping for wine should be as stress-free as sipping a glass of your favorite vintage on a lazy summer's evening.
That's the shared philosophy of Jamie Routledge and Steve Wilson, co-managers of City Wine Market, 4821 W. Sixth St.
Yet, research shows that's not always the case.
"A large national survey was done by the Constellation brand, I believe, and it showed that roughly a third of all wine shoppers described their experience as 'overwhelming,'" Wilson says.
"For us, that was kind of glaring."
Wilson and Routledge were college roommates who shared a love of wine but took different career paths before joining entrepreneurial forces.
Wilson is the former owner of Prairie Fire, an upscale restaurant in downtown Lawrence. After it closed in 2002, he worked as a wine educator and consultant for Wines by Jennifer in Parkville, Mo., and Cellar Rat in Kansas City.
Meanwhile, Routledge was learning the ropes as bar manager at Kansas City chef Michael Smith's 40 Sardines in Leawood and eventually Michael Smith and Extra Virgin restaurants in Kansas City.
"In the evenings, I'd just talk to guests on the floor and serve wine," Routledge explains. "That was my role. It was about taking a few descriptors and finding out the styles of wine a customer might prefer. And, if I didn't carry what they were looking for, knowing what I would have to match to them at their price point. Learning how to do that took a little time. But, the more interactions with customers, the easier it became."
Though one worked in retail and the other in the restaurant world, the future partners were learning their customers didn't want to be bombarded with an abundance of choices, but demanded bang for their buck.
"Jennifer's was focused primarily on value," Wilson notes. "Most of what she was selling was not-collectible types of wine. And I could see that really appealed to people."
With that in mind, Wilson and Routledge, along with Steve's wife, store owner Susie Wilson, opened the west Lawrence shop on July 3 with an inventory they hoped wouldn't overwhelm, and prices that wouldn't intimidate the average consumer.
"Most restaurants don't carry every product in the world," Wilson notes. "They carry good representatives of the products they do carry, which pleases most of the people most of the time. That's the model we thought we needed to use. Doing a project where the inventory was deliberately curtailed and the products were deliberately selected."
"The hot zone really is between 10 and 15 dollars. Ninety percent of our inventory is under 25 dollars."
Note worthy
Routledge, a sommelier, takes pride in knowing a manager has sampled every one of the 300 bottles in the store.
"There's nothing on my shelf, except maybe for 50 bottles that I've not had and, out of those, Steve's had them, at one point," he says.
Unlike more traditional wine sellers, City Market doesn't use "point cards" from Wine Spectator or other publications to market select wines.
"Those are a good reference source and a jumping-off point," Routledge says, "but magazines take advertising dollars from the same people whose wines they're ranking. So, if somebody has a full-page ad and then their wine gets a nice score, I look at it a little skeptical. And, a high score definitely doesn't mean it's a good wine for you, as well."
Instead, Wilson and Routledge write their own wine notes, which are on display throughout the shop. And they're always on hand to personally answer customer's questions.
"For instance, some of the Italian grapes are never listed on a label. You can tell the person what it is and what it tastes like. Then they might be more willing to take a gamble on that 14 dollar bottle when the taste profile has been described to them by a person and not by a mass-produced little blip from the salesperson."
Nice pair
Routledge calls on his restaurant experience to assist shoppers with food and wine pairing suggestions, like what to match with a pork tenderloin, for example.
"You find out if it's grilled, if it's going to be smoked while it's on the grill," Routledge says. "Is it going to be grilled on gas over charcoal? One of the things about working for Michael so long is that his food knowledge was so extensive, I picked up from him the cuisines from different regions around the world. Generally, if it grows together, it goes together."
City Wine Market customer Marci Leuschen, Lawrence, says having children forced her and her husband to start buying and drinking more wine from the value category. She says she appreciates the selection of lower-priced labels.
"You always think a good bottle of wine is going to cost you an arm and a leg," Leuschen says, "but when I've had wine suggestions from them, it's always in my price range. We're on a budget, and they're not wine snobs there."
Wilson and Routledge plan to partner with local restaurants for wine-tasting events and are promoting a wine club offering members 2 to 3 wines per month for $35 and a 10 percent discount on all wines in the store.
Copyright 2018 The Lawrence Journal-World. All rights reserved. This material may not be published, broadcast, rewritten or redistributed. We strive to uphold our values for every story published.