Ask Douglas County Fair jam judge Mary Ellen Barnes nearly any question about canning fruit, and she has the answer.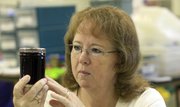 But she can be stumped.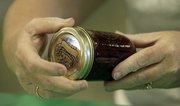 In more than a decade in her job as a jam judge, how many jars of jam has she judged?
"Oh my goodness," Barnes said. Certainly thousands.
Barnes, who lives in Tonganoxie but will travel to eight county fairs this year judging jam, looks like a scientist examining each jar. And it really is a science, she says.
Without ever tasting the jam, Barnes is tasked with examining the spread's consistency, color, overall appearance and "head space" - the amount of space left between the jam and the lid.
"A lot of people think that because we don't taste it, there's nothing to go by," she said. "There's a lot to go by."
Earlier this week, Barnes spent a couple of hours judging the open class, which included fruit spreads and canned greens.
As she sets the five jars competing in the fruit spread class in front of her, she starts a routine honed through 30 years of canning, 11 years judging, and training in the craft provided by the K-State extension office.
One by one, the top part of the lid comes off, as Barnes tests that the jars are sealed properly. Next is the head space, where several with too much - or too little - room are eliminated. After looking for foam - which is a no-no - she narrows the field to two as she juggles the jars around on the table. An intense gaze looking for color, consistency and appearance eventually gives Barnes the blue ribbon winner.
In addition to picking up some tips for her own canning, Barnes said she enjoys teaching the kids who are eager to improve their own skills.
"They're so much fun," she said.
After her time here in Douglas County, she'll head to more jam judging at the Johnson County Fair.
She'll be searching for that elusive perfect jar of jam that she occasionally comes across.
"That's exciting," she said.
Copyright 2018 The Lawrence Journal-World. All rights reserved. This material may not be published, broadcast, rewritten or redistributed. We strive to uphold our values for every story published.