Photo Gallery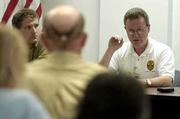 Lawrence Police Chief Ron Olin through the years
Soon there will be a new top cop in Lawrence for the first time in more than 20 years.
City Hall leaders on Tuesday announced that longtime police chief Ron Olin will retire on Sept. 1. An interim chief is expected to be selected within a week, and a national search for a new chief is expected to be completed by the end of the year.
On Tuesday, though, colleagues were hailing Olin's tenure as chief, which began in 1987.
"I can tell you that I was always proud to call him chief," Mayor Mike Amyx said. "He's very much been a to-the-point type of guy. He's a no nonsense type of individual, but a true, true professional. A professional is the best way to characterize him."
Olin wasn't available for comment on Tuesday. A police department spokesman said he was serving as an instructor at a police academy and planned a news conference for 10 a.m. Wednesday. But in a letter announcing his retirement, Olin said it has been a privilege to serve in the city's top law enforcement post.
"I have been honored every day to have been the Chief of Police and to help provide outstanding law enforcement service to our community," Olin wrote.
City Manager David Corliss said Olin had indicated to him that he is exploring another career opportunity, but other details weren't available. In addition, Corliss said Olin will turn 60 next month and is eligible to begin collecting retirement.
"He's been a very good leader," Corliss said. "He's been a strong proponent of training and equipping his staff and officers with what they need. And he's been a good counselor. He has provided good advice on how to respond to community needs, whether it has been serious crime or dealing with Final Four celebrations."
Officers who served with Olin said he led by example.
"One of his favorite sayings was that he once met a man with no shoes and felt pity until he met a man with no class," said Dan Affalter, a retired police captain. "Ron Olin had class. He set the standard of conduct in the police department."
Douglas County District Attorney Charles Branson, who took office in 2005 as the county's top prosecutor, said Olin's long tenure and his academic expertise benefited law enforcement agencies in the county.
"His longevity in that position has been remarkable, and I think that's a testament to his ability to run an efficient and effective office," he said.
The police department's six captains met Tuesday afternoon and elected Capt. Tarik Khatib to speak for them.
"He's always had this philosophy of leaving it better than you found it," Khatib said. "Everything the chief is going to be recognized for is going to flow along that theme of whatever it is he was doing, he would always leave it better than he found it, including the department and including the community."
Olin began his police career in 1971, just a few years removed from graduating Lawrence High School. Olin later became known as a broadly educated police chief. He holds a doctorate of philosophy in developmental psychology, and has taught university courses ranging from anthropology to criminal justice.
Olin's retirement will come about a month before the city auditor releases a report on the police department. But several City Hall leaders, including the auditor, said they were confident the upcoming audit had no bearing on Olin's decision.
"The audit is not expected to make any finding against the police department or even make any recommendations for changes," City Auditor Michael Eglinski said. "It really is just an audit identifying where we could do future audit work related to the department."
As city manager, Corliss will be responsible for hiring the next chief. But Corliss said he'll have multiple conversations with city commissioners, and also will seek public input on what is needed in a new chief.
Amyx said he expects several internal candidates will apply for the position.
Affalter said he considered Khatib to be a strong candidate to replace Olin.
"He was just recognized by the city commission for completing the FBI National Academy," Affalter said. "But all the captains are extremely bright and extremely talented, and I don't think the community has to worry about a smooth transition to whoever becomes the next chief."
Khatib declined to address the speculation Tuesday, saying future decisions are in the hands of Corliss and commissioners.
"The public shouldn't worry," Khatib said, "because the chief really has a capable staff and officers who are going to be able to continue doing really good work and see us through whatever transition there is."
Olin timeline
Some of the notable incidents from Lawrence Police Chief Ron Olin's career.
1971: Joins the police force.
Jan. 1980: Becomes assistant chief of police.
Dec. 1987: Becomes chief of police.
April 1991: Gregory Sevier is killed by police after his mother called 911 to report her son had locked himself in his bedroom and had a knife. Some members of the Lawrence's American Indian community are angered by the incident. The city reaches an out-of-court settlement in a wrongful death suit filed by the family in 1995.
Jan. 1999: Crowded quarters at the Douglas County Judicial & Law Enforcement Center leads to a request for space.
Oct. 2001: Olin's experience in studying terrorism as a member of the International Association of Chiefs of Police comes to the forefront following the Sept. 11 attacks.
Feb. 2003: Olin fires Officer Stuart "Mike" Peck, who was accused of giving a judge misleading information and withholding information while obtaining a search warrant. Peck appeals the dismissal but it is upheld. More than 2 dozen of Peck's cases against drug dealers are later dismissed.
July 2003: Lawrence police, including Olin, clash with protesters outside a dinner honoring Rudolph Giuliani during the week of events surrounding the dedication of the Dole Institute of Politics.
Aug. 2003: 56-year-old Judith Vellucci is killed by a fleeing driver in a high-speed chase, raising questions about Lawrence Police pursuit policies.
Nov. 2003: Journal-World crime reporter Eric Weslander profiles Olin after 16 years on the job.
April 2004: Lawrence Police work to become more responsive on noise complaints, public safety.
Sept. 2006: Marsha Mace is shot by police after a four-hour standoff. The detective who fired the shot is cleared of any wrongdoing, and the district attorney says papers found in the Lawrence woman's home indicate she intended to provoke the police into action.
May 2009: Olin's position on the InterAgency Board benefits the Lawrence Police Department.
July 2010: Audit of police force to be completed in October.
Copyright 2018 The Lawrence Journal-World. All rights reserved. This material may not be published, broadcast, rewritten or redistributed. We strive to uphold our values for every story published.