Lawrence Police shot a woman Sunday afternoon after a four-hour standoff at a mobile home park in northern Lawrence.
The shooting happened about 1:15 p.m. at trailer No. 107 at 110 N. Mich., witnesses said.
The woman shot at police at least twice during the hourslong standoff at the Mobile Village trailer park, police said.
"The individual in the trailer had threatened suicide, and we'd been here negotiating for a period of hours, and there was a shooting," Chief Ron Olin said Sunday at the scene of the shooting.
Police said the woman, 36, was in surgery Sunday at a Kansas City area hospital.
Standoff
The standoff began at 9:01 a.m. Sunday after the woman's mother asked police to check on her distressed daughter. When a police officer arrived at the door, he heard a gunshot come from inside the trailer.
Cameron Jackson, age 12, who lives four trailers down, was playing football in the area around that time. He said he saw an officer knock on the trailer's door and that the woman inside answered by shooting out a window.
"She started going ballistic: 'Get away from the house, I'll shoot again,'" Cameron said.
The officer called for emergency help, police said. In the next few hours, witnesses said, police could be seen and heard negotiating with the woman and gathering what looked like a SWAT team in the neighborhood. Police evacuated people from neighboring trailers.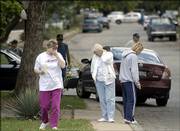 Off-duty officers responded first, and officers on the scene called for trained negotiators, trying to calm the woman.
"They kept : calling her by her name," said Sylvia Williams, who lives in a neighboring trailer. "They were like, 'We just want to make sure you're OK. Can you come out with your hands up?' and she wouldn't do it."
Residents of the park said that around 1:15 p.m. they heard a quick series of shots - some say it was two, others say three. Police said the woman walked out of the brown and white trailer and used a handgun to shoot at officers.
"I heard a boom, boom, boom - just three shots," neighbor Cherie Marshall said.
Cameron, the neighbor boy, said after that, he heard just one shot and saw the woman fall down.
Neighbor Lorie Meacham said that she saw the woman being removed from the area on a stretcher and that she wasn't moving at the time.
The woman was taken by air ambulance to a Kansas City hospital, where she underwent surgery for a gunshot wound.
'Rare occurrence'
Police Capt. David Cobb said negotiations during such crisis situations typically end peacefully.
"We have done so many, many times," Cobb said. "This is a very rare occurrence for us."
Cobb said the Douglas County Sheriff's Office and the Kansas Bureau of Investigation would look into the incident. Police departments typically don't investigate shootings by their own officers.
Police plan a news conference at 10 a.m. today when they will provide more information about the incident.
Cobb refused to release the names of the officers involved or any other details about the shooting.
According to Lawrence Police Department policy, any time an officer fires a gun outside of training or shooting an animal, it is considered lethal force.
"The discharge of a firearm in the line of duty is an irreversible action and one of the most critical decisions a police officer can make," the policy says.
Different kinds and levels of force are permitted according to the threat that police think a person poses to them.
The use of force policy identifies such threats as "overt, hostile attacking movements : with the intent and apparent ability to cause imminent death or bodily harm."
After any police shooting, officers can get trauma counseling from mental health providers, the policy says.
Lawrence Police were involved in a shooting on April 21, 1991, when Gregory Sevier was shot and killed at his home by two Lawrence police officers after his mother called 911 and reported that her son had locked himself in his bedroom and was carrying a knife.
Copyright 2018 The Lawrence Journal-World. All rights reserved. This material may not be published, broadcast, rewritten or redistributed. We strive to uphold our values for every story published.