Last week, several members of the Free State High girls swim team were thrilled to have their friends from Lawrence High be a part of their senior night.
Thursday, the Firebirds returned the favor by joining the Lions at a triangular at LHS for their senior night.
"It was a lot of fun to be here because we're all friends," FSHS senior Morgan Flannigan said. "They were there for ours and we were here for theirs, and I think that's something we should continue to do. We all want Lawrence to dominate."
On Thursday it was the Firebirds who dominated. Free State took first place in 10 of the 12 events. That included the usual showings from girls like Reilly Moore (first in the 50 freestyle and 100 breaststroke), Heather Clark (first in the 100 free and 200 individual medley), Chloe Portela (first in the 100 backstroke) and all three relays.
But it also included a couple of unusual finishes. For just the second time this season, Flannigan swam, and finished first, in the 100 butterfly. She also took first in the 200 freestyle, but after the meet, all anyone wanted to talk about was her butterfly.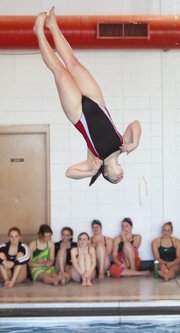 "Seeing Morgan take that fly was awesome," FSHS coach Annette McDonald said. "Today was really just about a bunch of girls taking one for the team and allowing some other girls a chance to swim their events."
In addition to Flannigan going for it in the butterfly, both Portela and junior Kara Mishler took a crack at the 500 freestyle, a race typically dominated by Flannigan. Their goals were simple.
"To finish," Mishler said. "I just wanted to finish."
Added Portela: "I wanted to break six minutes, but that's only like the third time I've ever done that event in my life, so I'm not real used to the whole pace thing. But if the team needed me to swim it for points, I was good with that."
In the end, the Firebirds, who finished with 290.5 points, rolled to an easy victory over Olathe South (172) and LHS (159.5).
But that did nothing to take away from the senior night festivities for the Lions, who celebrated the final home meet for seniors with a senior recognition ceremony, complete with flowers, just before the 50 free.
"I was nervous all day and I'm never nervous," said LHS senior Jessica Boyer, who took second in the 200 IM and 100 butterfly. "It's kind of sad, my last meet here. But once the meet started it kind of felt like any other meet. Of course, then halfway through, all of that emotion came back when they recognized us. But it was a great night."
LHS senior Katie Stites, who took fifth in the 50 free, said she got the sense that the evening meant a lot to a lot of people.
"I just think it meant a little more to all the seniors," she said.
The LHS seniors who competed at Thursday's meet included: Boyer, Stites, Lizzie Schneider, Julia Payton, Emily Ball, Jessica Freeman, Caitlin Haig, Anne Glasker and Ida Greenwell.
Doing her best to help send those seniors off with a smile was LHS freshman Heather Cistola, who finished first in the 500 free and teamed with Boyer, Stites and Mallory Neet to take second in both the 200 medley relay and 400 freestyle relay.
As for the Firebirds, the FSHS seniors who swam their final meets at both FSHS and LHS in the past week included: Flannigan, Clark, Mariah Finley, Tiana Byers, Adriane Black, Kristina Van Anne and Kelsey Cherland.
Copyright 2018 The Lawrence Journal-World. All rights reserved. This material may not be published, broadcast, rewritten or redistributed. We strive to uphold our values for every story published.