The prevailing reality to emerge from the Free State girls soccer team's Thursday night matchup with visiting Olathe South?
Generating scoring opportunities is nice; capitalizing on those opportunities is a lot better.
Despite a number of promising offensive possessions, the Firebirds couldn't produce a goal against the Falcons, falling 3-0 in a game that represented a slight speedbump in what has been a promising recent stretch for Free State.
"We just have to put the ball in the back of the net," said freshman forward Abbey Casady. "... We have to find that mentality where we go to the goal and not let anything stop us."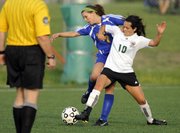 That mentality appeared to be missing Thursday, during a game in which officials allowed both teams to play with a good dose of physicality — sometimes to the apparent chagrin of the teams' coaches.

Officials stopped play to talk with both head coaches midway through the first half, and Firebirds coach Jason Pendleton later received a yellow card after voicing his displeasure with a call.
"It didn't have any impact on the outcome of the game," said Pendleton of the game's physical nature. "But it's frustrating for the players, because they're not sure how physical they can be."
"That's the high school game," added Casady. "You just have to learn to be tough and aggressive and not let anyone get by you."
The Firebirds (5-5-1) did manage to keep things close for most of the evening, giving up just one goal in the game's first 66 minutes, a Perri Mulder score with 13:01 remaining in the first half.
But two Olathe South (7-4) goals in the game's final 14 minutes — the first on an Emilee Clark rebound with just over 13 minutes remaining and the second a long shot by midfielder/forward Jordan Hester in the final 20 seconds — put the game sufficiently out of reach.
The silver lining Thursday — if there was one — was that the Firebirds played adequately against one of the Sunflower League's tougher teams, leaving Pendleton hopeful that, with a little execution, his team can play with the best the league has to offer.
"There's no such thing as moral victories," said the coach. "But the fact that we're generating corner kicks and generating scoring opportunities is (encouraging).
"But at the end of the day," he added, "you have to make plays."
Copyright 2018 The Lawrence Journal-World. All rights reserved. This material may not be published, broadcast, rewritten or redistributed. We strive to uphold our values for every story published.