Photo Gallery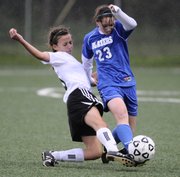 Free State girls vs. Gardner-Edgerton
Photos from the Free State girls soccer game against Gardner-Edgerton on April 26, 2010.
Hannah Carlson had three first-half goals and added an assist, and Elena Auer and Kylie Loneker combined for the shutout in goal as Free State High's soccer team blanked Gardner-Edgerton, 7-0, Monday at FSHS.
Other goals were scored by Hillary Yoder, Caroline Mayhew, Regan Keasling and Amanda Moyer. Mayhew and Loneker each had two assists, and Chelsea Casady had an assist.
Free State (4-4-1) will travel today to Shawnee Mission North.
Copyright 2018 The Lawrence Journal-World. All rights reserved. This material may not be published, broadcast, rewritten or redistributed. We strive to uphold our values for every story published.