Hundreds of volunteers spent Saturday planting gardens, painting and pulling weeds across Douglas County as part of the annual Day of Caring event sponsored by Roger Hill Volunteer Center.
Anissa Norris and her two daughters, Carlee, 8, and Halle, 11, joined about a dozen volunteers working on the courtyard at the Medicalodges nursing home in Eudora, one of 45 service-project sites.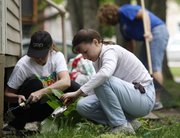 Norris said the project was a good learning opportunity for her daughters, and she hoped the experience would encourage a lifelong commitment to helping others.
"I think it's really important for them to start young," Norris said.
Instilling a commitment to community volunteerism in people of all ages was one of the main goals of the event, said Emily Hampton, the volunteer coordinator for Roger Hill.
"Hopefully they'll be inspired," said Hampton, "… (and) encourage volunteering year-round."
Volunteers worked on projects ranging from home repairs for low-income residents to gardening projects at area parks.
Kansas University student Juan Rivera said he heard about the event online and thought it'd be an enjoyable way to spend a Saturday.
"Why not?" said Rivera, who fixed up a picnic table for an area nonprofit in the morning and did some painting at another site in the afternoon. "It was fun."
More than 300 volunteers pitched in for the projects, and Hampton said the wide community support for the event wasn't surprising.
"Every year we have a huge turnout," Hampton said. "It shows that Douglas County residents know what's important."
Copyright 2017 The Lawrence Journal-World. All rights reserved. This material may not be published, broadcast, rewritten or redistributed. We strive to uphold our values for every story published.