Chelsea Casady gave Free State a goal in the first five minutes, and Elena Auer and Kylie Dever recorded a shutout in goal as the Firebirds blanked Topeka High, 4-0, in high school soccer on Friday at FSHS.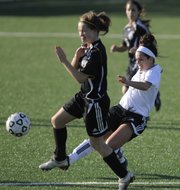 Casady's goal was the Firebirds' only score in the first half.
In the second half, Hillary Yoder pushed the lead to 2-0 off an assist by Madisyn Warinner. Amber Hicks converted a pass from Kylee Loneker to run the score to 3-0 with 17 minutes to go, and Caroline Mayhew finished the scoring off an assist from Katie Sarraf.
Free State (3-4-1) will play host to Gardner-Edgerton on Monday.
Copyright 2018 The Lawrence Journal-World. All rights reserved. This material may not be published, broadcast, rewritten or redistributed. We strive to uphold our values for every story published.